Honeymoon means full of romanticism, uniqueness, and passion. Every couple wants a honeymoon which they can cherish about after 30 years even. Expensive honeymoons cannot always make your honeymoon trip luxurious and worth cherishing. There are some affordable honeymoon ideas too for making the start of your love life a bit more enjoyable and exciting.
You can also find luxury in togetherness and within the bonding, you hold between each other at any place of the world. If you want to start your new adventure at an affordable range and still want to make it memorable then you must go through the ideas provided below.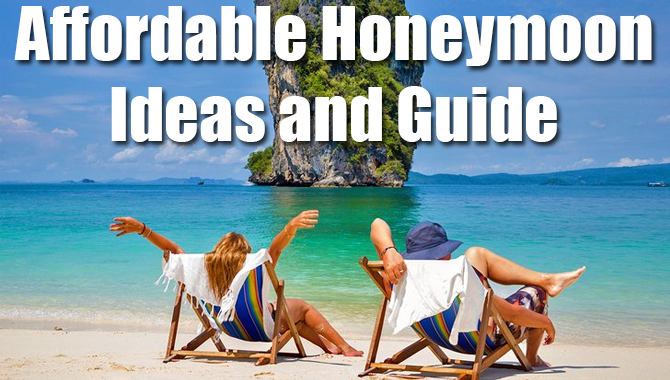 "Different Affordable Honeymoon Ideas and Guidance"
"Choose your Destination Wisely"
While choosing your destination, do not go for the hyped places. Hyped places are always expensive.
Try to find some low-key places which are beautiful, romantic, peaceful and suitable for a honeymoon trip. This will help you from spending a lot of money on accommodation.
"Leave the City Life for Having an Awesome Honeymoon"
Honeymoon means being only with each other and forget about all the tensions. If you plan to go a bit far from the cities then you can find places only for two. These rural areas or to some extent underdeveloped places are very soothing and appropriate as a honeymoon spot. Here you can enjoy some alone time as well as enjoy the open air without pollution with your partner.
"Camping for Newly Married Couple"
If you and your partner love nature and adventure then you can definitely go for honeymoon camping. This way you can enjoy your trip with each other in a private place and also can take the leverage of enjoying nature with togetherness.
According to Alex N. Ferroni of Safariors website, "Camping is one of the best affordable honeymoon ideas you can have to enjoy the fullest of nature."
To add up some spice to your camping, you can do some activities which can make your honeymoon camping memorable. Also, you can go fishing and hike for enjoyment.
"Pack Essentials Wisely"
If you are planning to enjoy candlelight dinner or something romantic then you can pack the essential things and carry those with you.
This can save some money as honeymoon spots are expensive by any means. Also buying essentials from an unknown place can be a bit tricky; therefore if you already have the essentials you can set everything without wasting time.
"Cruise Trip for Honeymoon Couple in Budget"
A cruise trip is always delightful and when it comes to honeymoon cruise trip that is something beyond romanticism. Cruise honeymoons are also affordable; you can get so many things with a fair amount of money.
For cruise honeymoon trips you do not need to choose any destination, you can just book the cruise which includes food, accommodation and everything else. Cruise trip can fulfill your site seeing wish as well.
"Honeymoon Packages of Travel Agencies in Budget"
If your wedding is on the wedding season, then you can go for honeymoon packages. Look for honeymoon packages which are affordable and comfortable, do not book at once, go through the packages' schedules properly and discuss it with your partner.
Do not take packages which have a lot of activities with less time. Try to take packages which gives you time for your partner as this is not any other tour but honeymoon.
"Destination Wedding"
To save some money you can also plan for a destination wedding. Destination weddings are fun and worth cherishing.
You can also enjoy some new cultures through this type of wedding. As you are already far from your regular place you can stay here for your honeymoon. This way you can save your flight fare and some accommodation charges.
To save up some more money you can also take cooked foods from home with you; only if you are planning your honeymoon at a close distance.
This will save money for your expensive lunch or dinner. If you do not want to take meals, then you might want to take some snacks so that you do not have to buy every time you are hungry.
"Last Few Words"
Go through these ideas before you start planning for your honeymoon trip. You might want to consider some ideas in order to plan an affordable yet remarkable honeymoon trip.
Keep in mind that a honeymoon means spending time with each other as a couple. You do not need to spend a lot of money to make your honeymoon memorable; you need better plans and execution to make your honeymoon unforgettable.