Would you love to tag the warm company of your little baby on your regular strolls in the hood or on your trips? The Chicco Bravo Trio Travel System has got your back. This baby stroller comes with all the outstanding features you would need to provide your baby with maximum comfort. Besides being great for baby strolling, this travel system also provides a free car seat adapter for the babies. Below is a detailed description of what the Chicco bravo trio travel system is all about and the features your young one will get to enjoy once you purchase it for them. We start with a description table to brief you on the specifics of the travel system.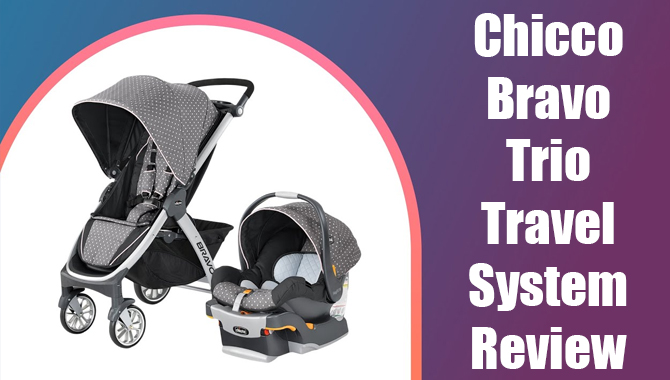 "Details Of Chicco Bravo Trio Travel System"
link="url:https%3A%2F%2Fwww.amazon.com%2Fgp%2Fproduct%2FB00MS9VTH4%2Fref%3Das_li_tl%3Fie%3DUTF8%26tag%3Dtopchooser-20%26camp%3D1789%26creative%3D9325%26linkCode%3Das2%26creativeASIN%3DB00MS9VTH4%26linkId%3Dd7d9c17774e606cce22c4cdc0e28cc22
"review-table"
| | |
| --- | --- |
| Weight: | 46.3 lbs |
| Age Range: | 18 months and below |
| Maximum Weight: | 50lbs |
| Dimensions : | 29 x 23.8 x 18.9 inches |
"CHECK LATEST PRICE!"
link="url:https%3A%2F%2Fwww.amazon.com%2Fgp%2Fproduct%2FB00MS9VTH4%2Fref%3Das_li_tl%3Fie%3DUTF8%26tag%3Dtopchooser-20%26camp%3D1789%26creative%3D9325%26linkCode%3Das2%26creativeASIN%3DB00MS9VTH4%26linkId%3Dd7d9c17774e606cce22c4cdc0e28cc22
"Review Points of Chicco Bravo Trio Travel System Review" font_container="
The discussed features below will enable you to make an informed decision once you go out to get this amazing travel system for your little one.
"Toe Tap Brakes"
The stroller features toe-tap brakes to help you park the stroller conveniently when not in use. Placed right below the wheel you can access it with a single touch convenience. Moreover, the stroller stays in place once parked so you won't have instances of it leaving the spot where it's parked. With the brake tap you don't have to worry about the kind of shoe you are wearing because the single action release can easily be done even while putting on sandals. Note that you need to ensure that the brake is properly engaged because there is no indicator included to show that it's well engaged.
"Multi-position Backrest"
One important thing you cannot afford to neglect while choosing a stroller for your baby is comfort. For that reason, the Chicco bravo trio comes with a multi-position backrest that allows the baby to enjoy the best of comfort while on the strolling sessions.
"Compact design"
For convenience of use, this travel system is designed with a number of compact features which include; auto-positioning wheels, one- hand fold and compacted folded design. The one hold handle is pretty easy to reach while the auto-positioning wheels get to rotate inwardly, which in turn makes it easy to put the system together. Furthermore, with the compact feature you can tuck the stroller inside the trunk of your car comfortably.
"Parent Tray"
Need a baby stroller that will provide you with storage space for your essentials? The Chicco bravo trio stroller will be a great choice for you. This is because the stroller is designed with a parent tray to provide you with space where you can keep your phone, car keys or purse and a cup holder as well.
"Smooth Ride"
If you need a smooth ride for your baby, this would be a great stroller for you. Featured with front swivels and a full suspension design, the stroller provides a smooth comfortable ride for the little one. More to a smooth ride is the seat that's designed with a pleasant soft fabric that gives the baby quite a comfortable seating. You should, however, note that you can give your young one a smoother stroll by choosing strolling paths with an even ground.
"Car Seat"
If you have an infant and you are the kind that's involved in long journeys every now and then, this bravo travel system will be ideal for you. This is because besides the stroller, this Chicco travel system also provides an infant car seat. The car seat has the capability of holding babies ranging from 4 to 30 pounds.
"Easy set up"
When it's time to go out for strolling you won't have trouble putting the stroller into shape. This is thanks to the base recline indicator and bubble level designed along that makes it pretty easy to set up. For base recline, you just need to press a single button and voila!
"Light Weight"
You don't want to purchase a baby stroller that's bulky and difficult to carry. This being a lightweight stroller you can be able to carry it up and down the stairs in your home without much struggle. More to comfortable handling is the ergonomic handle that makes pushing around the travel system quite stress free.
"Storage Basket"
It's definite that you will need to carry a number of your baby's necessities while going out for a stroll. This Chicco bravo trio travel system features a storage basket that provides you with enough space to hold your young one's diapers, milk bottle and other baby requirements. This way you don't have to go through the hassle of having an extra baggage besides pushing the stroller when on your walking sessions.
"Quality Material"
One thing that every parent has in mind while purchasing a baby stroller is how long it will be able to serve them. Well, this bravo travel system is made of a strong quality material that makes it to last for the longest time. Generally, the travel system can serve for two years or more as indicated by parents that have used it with their young ones.
"Handle Bar"
Another factor that makes this system a great buy is that you don't have to worry about your height in relation to being able to push the strolling system. Reason being that the handle bar is adjustable to suit the height of different individuals that get to purchase the system. Basically, the adjustment capability provides three positions from which you can identify the most ideal one for you. Notice that with the handle bar having the soft foam design; it needs some extra care from getting exposed to wear and tear.
"Covering"
This incredible baby stroller comes with a large adjustable covering to keep your baby perfectly shielded from the weather elements. Moreover, the canopy also features a mesh window to ensure that the baby enjoys sufficient air flow. Besides, the mesh window also allows you to check on the welfare of the young one conveniently as you stroll.
"Safety"
Your baby's safety should be a priority while getting them a strolling set. This travelling set from Chicco has your toddler's safety in mind in that its shell is designed with energy absorbing foam that takes in shock in instances of a collision. This way the toddler gets protected from any harmful impact that would result from the collision.
"Top Features"
Good quality makes up material
Lightweight
Compact
Adjustable handle bar
Multi-position back rest
Storage basket
Parent Tray
Adjustable and large covering
One touch brake for safe parking
"What we liked :"
Being lightweight, it is quite convenient to carry the system especially if you have a number of stairs in your home to tackle
With an adjustable bar, the user is able to push around the stroller at their preferred length
For maximum comfort of the baby, the seat has the multi-position back rest capability
Comes with a parent tray that enables you to keep your personal stuff at hand
It is durable in turn providing you with several years of quality, strength and perfect comfort to the baby.
The travel system is set up easily with base recline capability and the bubble level
One touch brake provides a safe and secure parking
"What we didn't like :"
Not appropriate for young ones who need support with their neck
"Frequently Questions and Answers"
"Q: Once I purchase the system, will I get a car seat base also?"
Ans: Yes, the system's package consists of: a car seat, stroller and the car seat base.
"Q. Is the infant insert available in the package?"
Ans: Yes, the insert is provided and good news is that is can be detached and can be used on the machine washer as well.
"Q. What age is suitable to use the stroller?"
Ans: It is normally recommended for kids up to 18 months of age but it all depends on how much they weigh; note that the maximum weight that this travel system can hold is 50lbs.
"Q. Can I carry it in my car's trunk keeping in mind that I don't have such a big car"
Ans: Well, the set is designed with easy to fold features that make it to fit perfectly fine in the trunk of a car once folded.
One irresistible thing about the Chicco Bravo Trio Travel System is that you take home two-in-one baby equipment; the stroller and the car seat all in one set up. This in turn will help you save so much on space and expenditure as well by lessening the number of baby equipment you need to purchase for your baby as they grow up. Other than that, the piece is durable and quite convenient for travelling parents. If you are convinced that this is all your baby needs for pleasant strolling and travelling moments, you should purchase it today to give your baby the comfort they deserve.
"Check Latest Price"
link="url:https%3A%2F%2Fwww.amazon.com%2Fgp%2Fproduct%2FB00MS9VTH4%2Fref%3Das_li_tl%3Fie%3DUTF8%26tag%3Dtopchooser-20%26camp%3D1789%26creative%3D9325%26linkCode%3Das2%26creativeASIN%3DB00MS9VTH4%26linkId%3Dd7d9c17774e606cce22c4cdc0e28cc22
"You may also like:"