There are several types of door stopper you will find in the market starting from the most decorative to the most functional one. Let's take you to have a look at a few types that are running fast in the marketplaces right now.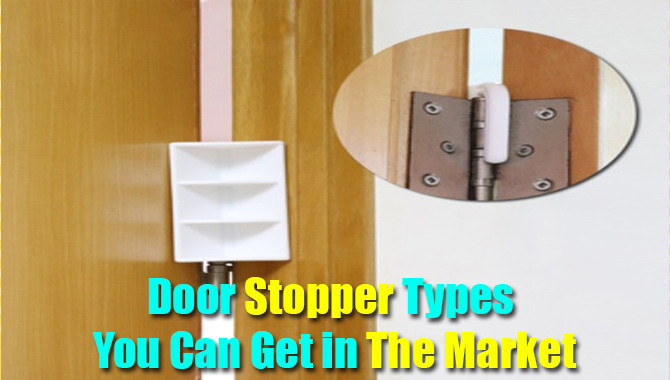 "1. Baseboard Door Stops"
When usually someone hears the word 'doorstop', I won't be surprised if the baseboard door stop pops up in their minds. It is also known as the spring or solid doorstop, this is the most common type of doorstop people use these days. You can install it into the baseboard behind your door. You don't need to think about the price as it won't cost you more than a few bucks. This stop comes at the most affordable price.
"2. The Hinge Pin Door Stops"
These doorstop design can blend in with your hinge without being noticed. You can install these stops quite easily as they slip onto the pin in the hinge of the door. You won't need to exhaust yourself with extra works like putting holes on your wall or door.
However, if I were you, I would be careful while buying these as some door stops need the same brand of the hinge. Otherwise, they won't work and you won't have any choice but to use them as paperweights.
"3. Floor Mounted Door Stops"
As the name says it, these door stops are mounted on the floor. These are quite similar like the baseboard door stops, but, the difference is, instead of baseboard, you use these door stops on the floor. I personally like these door stops as they come in stylish designs and shiny colors. Keep in mind that sometimes you can find these as magnetic door stops as well.
"4. Wall Bumper Door Stops"
Somehow, you are not being able to install any door stopper on your floors or baseboards? You can try the wall bumper door stops. When it comes to protecting your walls from harm, these door stops work like magic. You can install these door stops on your wall instead of floors and baseboards. Just make sure you install these where the doors usually hit.
"5. Hook Door Stops"
Do you want to keep your doors open for a long period of time as well as you need your doors to be held from opening too far? If your answer is yes, then you should go for the hook doorstops as they can do both. Like the floor mounted door stops, you'll have to install the hook door stops on the floor. There's an eyelet (also known as hook loop) with each doorstop. You need to install the eyelet onto the bottom of the door.
"6. Kickdown Door Stops"
Kickdown door stops come with a different approach. If you need to stop your door from being closed, you can try the kick down door stops. These doorstops can hold your door from being closed until you manually release it. Why is the name kickdown? Because you need to use your leg to release it.
"7. Wedge Door Stops"
Wedge door stops are probably the simplest of all the types. You can carry a wedge door stopper anywhere, anytime, even in your pocket. Besides, you don't need to install this doorstop anywhere. You just put a wedge doorstop under your door and that's it, your door won't get closed now.
"8. Magnetic Door Stops"
These elegant looking door stops come either with stainless steel body or even if it doesn't, there will always be a metal attached with its head. You'll get a magnet that will probably look like a magnet. The back of your door will have this magnet attached to it. On the other hand, the door stop will be attached to your wall. If you want to keep your door open, the magnet will attract the door stopper fixed with your wall. As a result, your door won't be able to move.
"9. Decorative Door Stops"
Want to spice up your door stopper experience with some decoration? People in residential areas often use decorative door stops. Made with iron or ceramics, these door stops will add decor to your home as they come in various shapes or statues. You just got to put these stops in front of your doors to hold your door from closing. If you want to close your door, you can just manually keep the stoppers aside. These stops remind me of paperweights.
"Final Words:"
My suggestion would be when you think of buying a door stopper, first decide which one you will go for: the most decorative or the most functional one.
If you are still confused about door stopper types you can get in the market, please go through our list once again and see which one meets all your needs and suits your interior design best.
"You may also like:"