Are you a welder and have heard much about the digital microprocessor and you have been wondering what's the fuss that comes with owning one? Well, here we bring you the everlast 210 ext digital microprocessor that has been a popular choice among professional and upcoming welders for their welding activities. It is designed with rich features meant to give an impressive welding quality at all times. To begin with, this tool will increase your welding productivity and accuracy as well. In terms of flexibility, the Everlast 210 Ext will not fail thanks to the three distinct wave forms that are designed along. Well, it is easy to get scared of the tool due to its intensified features but you need not to worry since it is pretty easy to use and doesn't demand much skill to operate.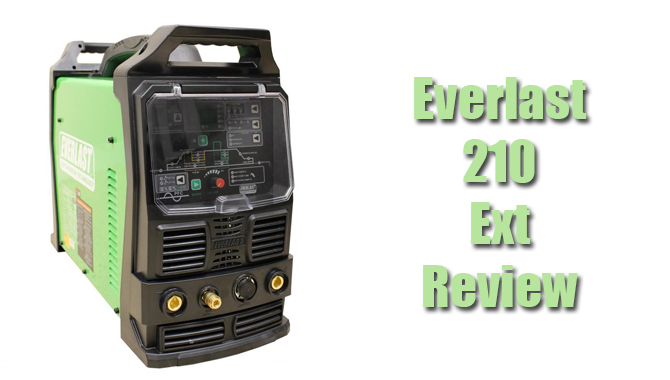 "Details Of Everlast 210 Ext"
link="url:https%3A%2F%2Fwww.amazon.com%2Fgp%2Fproduct%2FB00NAC9Y1Q%2Fref%3Das_li_tl%3Fie%3DUTF8%26tag%3Dtopchooser-20%26camp%3D1789%26creative%3D9325%26linkCode%3Das2%26creativeASIN%3DB00NAC9Y1Q%26linkId%3Daff78d63718829d6c308b839c1b9d78d
"review-table"
| | |
| --- | --- |
| Weight: | 60 pounds |
| Material: | Steel |
| Dimensions: | 24 x 9 x 17 inches |
| Voltage: | 240 volts |
| Power Source: | AC/DC |
| Other Features: | Three distinct wave forms, power factor correction, IGBT technology, hot start intensity, hot start time, arc force control |
link="url:https%3A%2F%2Fwww.amazon.com%2Fgp%2Fproduct%2FB00NAC9Y1Q%2Fref%3Das_li_tl%3Fie%3DUTF8%26tag%3Dtopchooser-20%26camp%3D1789%26creative%3D9325%26linkCode%3Das2%26creativeASIN%3DB00NAC9Y1Q%26linkId%3Daff78d63718829d6c308b839c1b9d78d
"Review Points of the Everlast 210 Ext"
Below is an Everlast 210 ext review highlighting its incredible features that make it the perfect tool for a welder.
"IGBT Inverter Technology"
A welding tool that is small and lightweight lets you go about your work without getting overly exhausted. That in turn enhances your productivity at the end of the day. In consideration to that, Everlast brings you this welding tool with IGBT technology that makes it compact and remarkably lightweight. Also, the feature also makes the tool stable thus making it quite easy to handle. Wholesomely, the feature gives the welder all the convenience they need to have a productive welding session.
"Wave Forms"
This welding tool features three distinct wave forms to provide ultimate flexibility during welding. These waves include the advanced square wave, the soft square wave and the sine wave. This flexibility feature is mostly essential for welding aluminum materials.
"Two-Pulse Modes"
Another exciting feature of this tool is the two pulse modes; the standard and the advanced pulse. With the advanced pulse mode, the user wavers between AC and DC, which in turn provides a easy tender penetration on thin aluminum gauge and strong penetration on thick aluminum metals. This way the tool is featured to handle both simple aluminum and strong aluminum without over tasking the welder.
"Programmable Functions"
The Everlast210 Ext welding tool features programmable functions which include: hot start intensity, hot start time and arc force control. These functions are meant to make the welding job accurate and highly industrious.
"Micro-processor Control"
For a successful welding procedure, the welder needs proper welding management. For that reason, this tool comes with a micro-processor control feature that plays the important role of a proper management of the welding parameters and functions.
"Voltage Reduction Device"
Having a safe working environment while on your welding activities is very important. With that in mind, Everlast brings you this welding tool with a voltage reduction device that lessens OCV from 24 volts to 60 volts. Also on safety, a warning alert is featured to keep you aware if there is an instance of an excess temperature or current. Moreover, a breaker-type switch is also included to reduce the occurrences of fatal electrical faults. This way you are able to do your welding job without facing electrical injuries risk.
"Power Factor Correction"
As a welder, you don't always have a guarantee that you will have your jobs in areas that have electricity power or sometimes there could be a blackout in your working area. To avoid getting stuck in areas without electricity, you need to get a welding tool that has the capability of working with a generator too. With this welding tool you will never get stuck due to electrical faults or while in areas without electricity access. This is thanks to the PFC feature that makes it capable of running on generator power. You should however note that before using any generator on this welder, you should confirm that it's certified by the manufacturer to releasing pure power.
"Foot Pedal"
If you have been involved in welding, you definitely know that a welding tool needs to be able to withstand tough working environments. With that, the tool features a root pedal that's ruggedly designed to withstand harsh working environments for the longest time. Other than the rugged feature, the pedal is made with a smooth metal top that provides a comfortable positioning of your heel.
"Ease of Use"
Despite being a richly featured tool, this welding machine provides the user with quite a convenient user experience. This is attributed to its controls that are strategically placed for a convenient access while at work. Moreover, with the user instructions provided it won't be quite an issue to operate the machine even for individuals that are new in the welding field. Another thing to note is that you won't need to set up a new plug for the welding machine if you already have a dryer plug in your shop or at home.
"Casing"
Even with welding, we also need a sense of a captivating design. Recently, Everlast has upgraded the casing of this 210 Ext model to a more impressive design. Precisely, the casing uses machine screws that are top quality oxide with the holes being nicely arranged to create a neat organization. I know for some of you may imagine this is a little bit unimportant but it's important to note that the outlook of the equipment you are using inspires your mood and enthusiasm for the job.
"Versatility"
If you are a professional welder, having a welding tool with versatile welding options will broaden the range of welding jobs you can handle. Such will in turn make you quite industrious in the field. Having both the AC and DC welding capabilities, this machine is quite versatile in that it's capable of TIG welding both aluminum and steel. Besides, it features the double voltage capability that makes it usable in all areas as long as there is an available outlet.
"Quiet Operation"
It's definite that you have come across particular welding environments that are quite a nuisance due to a noisy operation. This can be quite inconveniencing for people around you especially if you are doing welding in a place that's not industrial setting. One good thing about this welding tool is that it provides a quiet operation; you won't cause disturbances every time you need to do some welding.
"Torch"
WP26 and WP 9 torches are provided to regulate the amperage of the main menu setting to 5% and 6%. The WP9 torch is ideal for doing welding jobs in offsite regions or TIG welding. The only shortcoming with the WP26 torch is that it's a little bit heavy but nevertheless you wouldn't expect more for a torch that is gas cooled.
"Strong Construction"
Are you a serious welder looking for a welding tool that can take up long hours of working without breaking down? This one would be a great choice for you. The Everlast 210 Ext is strongly built to withstand prolonged working hours while delivering quality welding results at the same time. With the strong steel built, the machine doesn't disappoint when exposed to tough welding conditions. Generally, this welder can work on several tough metals which include: copper, titanium, aluminum, steel among many others.
"Rugged Exterior"
While welding, you realize that the sparks released may damage the welder's control panel if it's not well protected. For that reason, this welding tool features a tough exterior and a flip down visor which ensures that the control panel is completely shielded from sparks during welding
"Power Cable"
With a power cable that may limit your movement, it is definite your performance will be interfered with. With that, this powertig 210 ext is designed with a 6-feet power cord to make it possible for you to make unrestricted movements while on your welding jobs.
"H.F Starting"
You really do not want to get a welding machine that demands a lot in terms of maintenance because it might leave you with an unaffordable expenditure at the end of the day. To avoid such instances, this machine features a H.F and starting that reduces its maintenance needs. Furthermore, a lift starting is also designed along to stand as an alternative in welding jobs where H.F use is prohibited.
"Flexible Stick Parameters"
If you are an enthusiastic welder, you will need to get a welding tool that's not likely to restrict you on the kind of material you can handle. This powertig 210 ext could be ideal for individuals involved in serious welding activities because with the adjustable stick parameters, the machine allows you to work on various electrodes. These include:E 7018, E7014, 309L, E6011 and a lot more ranging up to 1/8".
"50 Style Power Joints"
This tool is not only powerful but will enhance your productivity with its capability of universally working with different fittings and torches in the welding field.
"What's in the Package?"
Consumable starter kit, foot pedal, Everlast 26 series TIG torch with remote switch included, heavy duty stick electrode, 6 feet power input cable, work clamp with 10feet cable and Everlast billet brass Argon regulator.
"Top Features"
Voltage reduction device
Programmable functions
IGBT technology
Microprocessor control
Three types of wave form
Power factor correction for generator use
Microprocessor control
Top arch stability
"What we liked :"
Though lightweight, the tool is very powerful and offers impressive welding results
With the power factor correct feature, you won't stop working due to electricity power interruptions
It comes with a microprocessor control that ensures ultimate welding parameters and function management
Starting the arc is pretty hassle-free as well and the arc is consistent through the welding activity as well
It is adorned with features that could only be found in other welding tools that are remarkably high priced
It features the IGBT technology that makes it quite easy to handle while enhancing its performance too
Featured with three wave forms for flexibility the welder is able to penetrate through all kind of aluminum whether thick or thin
It is safe to use with the several safety controls that are designed along. This includes the over temperature and over current warning controls and a breaker type switch
"What we didn't like :"
Everlast could make an improvement on providing a consumable kit for the 26 torch feature that's provided
"Frequently Questions and Answers"
"Q: How many torches are provided with the Everlast 120 Ext and what style are they?"
Ans: The welding tool comes along with the 9 and 26 torches. Note that both of them are designed with their own detachable finger switch control.
"Q. So I have been thinking of buying the tool for a while and I have been wondering whether the torches provided are water or air cooled?"
Ans: They are air cooled
"Q. About the consumables, are they proprietary or they are standard because am concerned if I can acquire contact ideas for our shop?"
Ans: They are standard
"Q. My welding activities mostly involve materials that are made of aluminum. Will this welder be good for me?"
Ans: Yes, from the Everlast welders review sites, most customers indicate that it is perfect in penetrating aluminum gauge materials.
Your welding moments will only be productive when you have the right welding tool with you. With the above Everlast tig review, you now know the way to look any moment you are looking for a quality welding tool for your shop or your field welding activities. The tool is easy to set up and will be ideal for satisfactory welding sessions whether you are a veteran in the field or if you are just a beginner. Important point to note is that this welding machine is not recommended to be used on E6010 electrodes and cellulosic rods.
"Check Latest Price"
link="url:https%3A%2F%2Fwww.amazon.com%2Fgp%2Fproduct%2FB00NAC9Y1Q%2Fref%3Das_li_tl%3Fie%3DUTF8%26tag%3Dtopchooser-20%26camp%3D1789%26creative%3D9325%26linkCode%3Das2%26creativeASIN%3DB00NAC9Y1Q%26linkId%3Daff78d63718829d6c308b839c1b9d78d
"You may also like:"