For starters, mountain bikes are made for riding off-road for fun competitions and also for those who love adventure. When starting, the budget is the most important factor, and therefore, getting the best mountain bike standard price is key.
Mountain bikes come in a wide range of models, and most are designed to be versatile and run effectively on different trails. In this article, we will show you how you can find a good mountain bike that will fit your riding style regardless of whether you are a starter or a pro. Everything else comes after you find the right size bike. Ensure that your bike is the best fit for you, for example, go for a short seat tube because it will give you great stand over and you will get perfect room to maneuver the trails. Ensure that you have full peddling height without the need of overextending your Seatpost. Majority of mountain bikes come with the built-in suspension to enable them to roll over different uneven trails, absorb the impact of landing drops and jumps and maintain traction on climbs and slopes.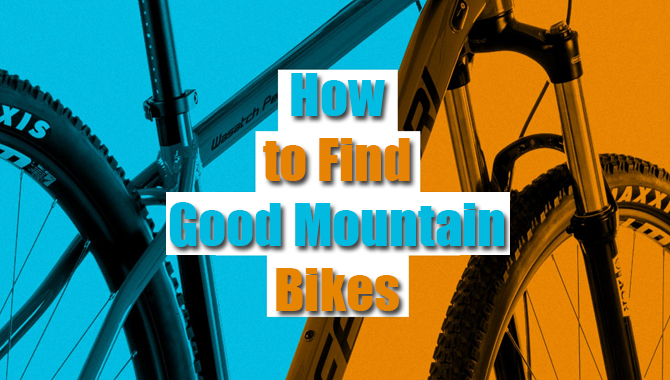 Hard trail bikes have got a rigid rear, and a set of forks, well as full suspension have got a shock at the rear and forks at the front. With full suspension bikes, you get to cover technical terrain of the best speed.
For starters, hard trail bikes are the best option because they are perfect for climbing, for cross country and great at pedaling. They are affordable and require less maintenance. Weight is an essential Factor. Just as it is important to have a lightweight bike for cycling, it is equally important to have a mountain bike weighing a few extra pounds. This can help you enjoy riding on those random rocks and any other uneven ground.
Lightweight mountain bikes are not as steady and will always be on edge. This will cause more repairs other than being on the trails. Mountain bikes have got three main wheel sizes, and they include 26 inch, 27.5 inch, and the 29-inch wheels. The 26-inch wheels have been replaced by the 29 inch and the 27.5-inch wheels. You can opt for bigger wheels if you want to cover more miles and smaller stronger wheels for smashing trails. Mountain bikes are made to suit different types of riding as well as different rugged environments.
What varies here mainly are:
Frame geometry (Head angle and seat tube)
Amount of suspension travel
Suspension design
Components (Handlebars, brakes, and gears)
Let's check out some of the different types of mountain bikes that you can choose from.
These are made specifically for going downhill fast as well as tackling big features like drops, rock gardens, and jumps.
They are designed for all-purpose riding. They are perfect for climbing and descending rugged ground. It suits wild single track as well as moss trail centers.
These are perfect for going forward. They are lightweight and feature a suspension system specifically made to give maximum forward momentum and gearing for the best speed.
These are designed for the rigours of Enduro racing. They are best for covering large distances plus bigger terrains. Your bike would be determined by the terrain that will be riding on. If you want a good mountain bike, you need to know the areas that you will be mainly riding it on. Sample if it is mainly trail centers, then you must find a bike that suits that terrain. Here I recommend you read reviews of the forks and shocks of the bike that you would want to purchase. It's best to get the exact models from the manufacturer's site. Original Equipment units are of different quality compared to similar-looking ones offered on the market. It is often best for you to go to your local bike shop and try out the bike that you need in person. You can opt for a test ride to see how your preferred Choice will feel on a trail. I hope this article will help you find a good mountain bike that will best suit you.
One more thing, whenever, you want to buy a mountain bike, please take a mountain bike helmet with it. To know more about it, you can check this website.