Are you in search of a recumbent bike for engaging in low impact cardio exercises at the comfort of your home? The Schwinn 230 Recumbent Bike would be a great option for you. It comes with excellent comfort features and has the best of results in achieving your fitness goals. Moreover, the bike is quite sturdy for optimal stability even while engaging in high intensity exercises. Also, in regards to longevity, this bike gives a long term service that's worth your money.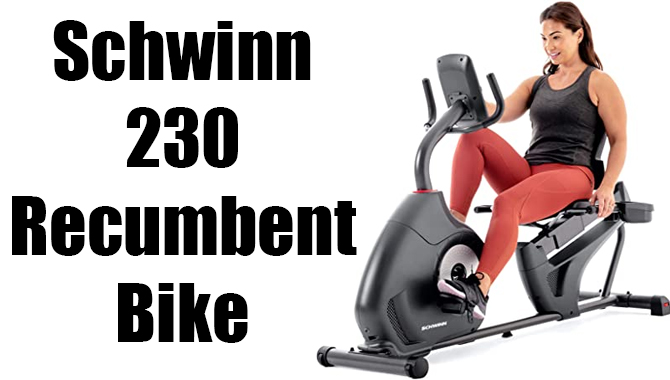 "review-table-content"
"Details Of Schwinn 230 Recumbent Bike"
link="url:https%3A%2F%2Fwww.amazon.com%2FSchwinn-230-Recumbent-Bike%2Fdp%2FB01DN03J7E%2Fref%3Das_li_ss_tl%3Fie%3DUTF8%26linkCode%3Dll1%26tag%3Dtopchooser-20%26linkId%3De5260e9ab2122b3fd16b788e92fea46f
"review-table"
| | |
| --- | --- |
| Weight: | 81.6 Pounds |
| Type: | Recumbent |
| Seat Type: | Adjustable |
| Dimensions: | 66.5 x 27 x 12.5 inches |
| Additional Features: | 22 workout programs, contact heart rate monitor, large display console, media rack, USB charging port |
"CHECK LATEST PRICE!"
link="url:https%3A%2F%2Fwww.amazon.com%2FSchwinn-230-Recumbent-Bike%2Fdp%2FB01DN03J7E%2Fref%3Das_li_ss_tl%3Fie%3DUTF8%26linkCode%3Dll1%26tag%3Dtopchooser-20%26linkId%3De5260e9ab2122b3fd16b788e92fea46f
"Review Points of Schwinn 230 Recumbent Bike"
Now we get to have a detailed look at the impressive features of this bike that make it absolutely the best for your light workouts at home.
"22 Work out Programs"
Having different workout programs with your recumbent bike will help you stay motivated and challenged during your exercise sessions thus achieving your fitness goals quickly. This bike comes with 22 inbuilt workout programs that allow you to experience a wide range of exercises. These programs include: 2 fitness tests, 1 quick start, 8 heart rate programs, 2 customer user-define and 9 profile programs. Note that you don't have to use these programs while working out and you can always adjust the resistance levels according to your fitness needs.
"Console"
The large console is designed with two displays that include the large upper part display and the smaller lower display. From here you are able to make adjustments of the exercise resistant levels, view your workout progress, and choose an exercise program as well. The console also has an MP3 port that allows you to enjoy your favorite music as you exercise. Also on the console is a USB port that ensures that your connected MP3 device never runs out of power. Important to note is that the console doesn't have an on and off button and it gets to switch off automatically when it is left idle for 5 minutes.
"Accessories"
There are a number of accessories that would make your exercise sessions more convenient and less exhausting. For that reason, the Schwinn recumbent bike comes with a number of accessories to give you a pleasant user experience during your fitness sessions. To begin with, there is a water bottle holder to make sure you never run out of water when working out. Secondly, it has a 3-speed fan that keeps you cool while engaging in high resistance workouts. Also, to keep you entertained through your workout, there are 2 speakers from which you can enjoy your preferred music through the MP3 media connection on the console.
"Assembly"
This exercise bike doesn't come fully assembled from the manufacturer. However, its nothing to worry about since a set up instruction manual is provided to enable you complete the assembling process easily. Moreover, all the tools needed for the entire assembly process are provided so you won't need to borrow or purchase some for the procedure. This could take you at about one to two hours but getting an extra hand could make the process shorter and easier. Note that the manual is provided in English, French and Spanish.
"Portability"
Need a recumbent bike that you can move conveniently from one area of your home to another? This Schwinn recumbent bike will be a great choice for you. It is designed with transport wheels that enable you to move it around without much effort. However, you will notice that they may get stuck while being rode on the carpet since they don't have enough clearance for such surfaces.
"Comfortable Seat"
The more comfortable you are while working out, the more productive your exercise sessions will be. Made from molded plastic, the bike chair provides all the comfort you need for fulfilling workout sessions. Moreover, the bike has a convenient height for easy mounting and dismounting. For added comfort you can always place a folded towel on the back rest or on the seating area.
"Handle Bars"
This bike comes with a pair of handle bars that are featured with pulse sensors to enable you monitor your heart rate as you exercise. The handle bars are within a convenient reach and you can easily place a grip on the pulse monitors anytime you are engaging in the heart rate programs. Additionally, the bars are static which adds convenience to getting on and off the bike.
"Large Crossbar"
Falling of your recumbent bike is the last thing you would want to experience especially if you are on cardio exercises for nursing an injury. To avoid such instances the bike is designed with a large crossbar that provides a maximum stability even while working out on high intensity.
"Quiet Workouts"
If you live in a studio apartment, this recumbent bike will be great for you because it offers a smooth quiet operation. This is thanks to the high speed flywheel. With this you will be able to enjoy music form your MP3 device without noise obstructions from the bike's operation.
Working under different resistance levels enables you to rapidly attain your fitness goals. This bike comes with 20 resistance levels to enable you work out on varying intensities ranging from the simple cardio exercises to the tough weight loss workouts. You can adjust the resistance gradually with this weight loss exercise bike starting from low resistance levels. With time, move on to higher resistance levels depending on your capability.
"Two User Profiles"
Been looking for an exercise bike that you can share with your spouse or a friend? This bike makes this possible for you. It is designed with the two user profile design making it capable of being shared. With this feature, each individual is able to save their workout information and intensity levelsseparately.
"USB Data Transfer"
If you would like to track your workout output online, this bike allows you to do so with the USB data transfer feature that's provided. This occurs by transferring the exercise data on the USB drive to the Schwinn website for an advanced workout tracking. With this feature you can also link up with MyFitnessPal, which is also a convenient way to keep track of your workouts.
"Weight Capacity"
If you need a steamer that you can carry around on your journeys, Conair fabric steamer would be a nice choice for you. Being hand-held, the steamer is remarkably lightweight thus you can be able to carry it on your journeys if you are a regular traveler.
"Top Features"
Large console
22 inbuilt work out programs
USB and MP3 ports
High weight capacity
Two user profiles
Comfortable seat
Portability
Easy assembly
Pulse sensor handle bars
"What we liked :"
With 300lbs maximum weight capacity, this bike can hold the weight of most individuals.
The bike is quite useful with the two profile design that makes it an exercise bike that can be shared.
It is great for people that live closely to their neighbors because it has a pretty quiet operation.
The USB data transfer feature of the bike enables you to share your workout data on MyFitNess site where you can have an advanced exercise tracking.
The 22 inbuilt programs allow you to work out on varied exercises to achieve your workout goals pretty fast.
Assembling the bike will not stress you out with the set up manual that is provided by the manufacturer.
You can be able to monitor your heart rate as you exercise with the pulse rate monitors placed on the bike's handle bars.
If you need to move the bike you won't have to lift up its entire weight because it is designed with wheels for easy portability.
You will be able to listen to your favorite music as you work out thanks to the MP3 capability that comes with the bike.
The 3-speed fan provided ensures that you enjoy a cool soothing atmosphere as you go about your exercise sessions.
"What we didn't like :"
Weighing 13 pounds, the flywheel is lightweight and may not be satisfactory since most individuals prefer a heavier type as indicated by a number of Schwinn 230 recumbent bike reviews.
"Frequently Questions and Answers"
"Q: What's the difference between the 230 and 270 models because they seem to be alike?"
Ans: The 230 model is not as richly featured as the 270 one, it's a lesser version of it.
"Q. How heavy is the bike? Can I be able to move the bike?"
Ans: It weighs 81.6 pounds but has wheels for easy portability.
"Q. Does it have a magnetic resistance?
Ans: Yes it does.
"Q. Which tools do I need to assemble this bike?"
Ans: You don't need to buy any since the bike comes with every single tool you will need in the assembling process.
If you have been looking for a convenient way to have your cardio exercises within the comfort of your home, this Schwinn recumbent bike 230 could be your best option. This is because it is a high performance recumbent bike and it enables you to keep an advanced track of your workouts as well. Additionally, with the 22 programs provided you will be able to attain your workout goals within a short period of time.
"Check Latest Price"
link="url:https%3A%2F%2Fwww.amazon.com%2FSchwinn-230-Recumbent-Bike%2Fdp%2FB01DN03J7E%2Fref%3Das_li_ss_tl%3Fie%3DUTF8%26linkCode%3Dll1%26tag%3Dtopchooser-20%26linkId%3De5260e9ab2122b3fd16b788e92fea46f
"You may also like:"