The first thing you do the moment you get home from a busy day's work is to relax and meditate on how you can make things better the next day. Whether it's in your bedroom, living room, office room or lounge room, a chair is one piece of furniture that can provide you with the right comfort to meet your sitting style.
But, in recent days, chairs have taken a modern twist to offer more than just comfort. Just like the rest of the furniture, chairs are now coming with newer modern inventions that are making them iconic pieces able to accessorize your interior décor to give it a more luxurious profile.
And, with hundreds if not thousands of chair models available in the market, choosing the right furniture can be overwhelming especially if you're a newcomer in this route. Thankfully, you don't have to worry about anything as this post has rounded up some popular and most versatile chairs that can make a difference both in your modern and contemporary home.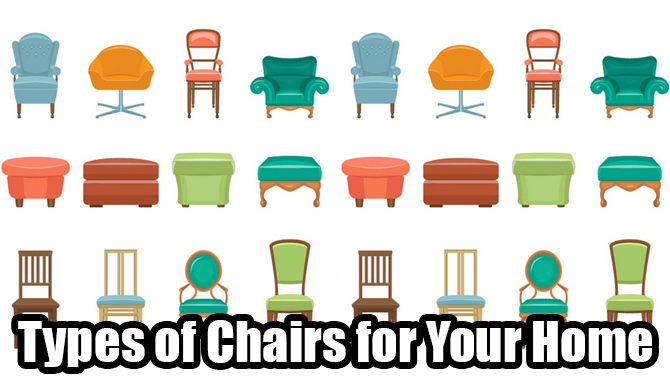 To make it easier for you to peruse through this short list, here are some chairs that you can consider for your living room, dining room, kids' room, and your backyard."Types of Chairs For Your Living Room" The living room is one of the most important areas in your home. Its where you gather with your family to chat, relax and watch your favorite TV shows. Since comfort is key, here are some cozy chairs you can think of adding in your living room space."Armchair" An armchair is a type of accent chair that adds a bit of style in your living room space. These chairs have a straight back and an armrest where you can place your arms or your elbows when resting.
Unlike their couch cousins, these chairs can only hold one person. They're available in a variety of fabrics and vibrant colors that suit both traditional and contemporary living room spaces."Recliner" Introduced in the market in the 1830s, the recliner was formerly the Morris chair that had gone through various modernizations to make it smarter and more comfortable. Regarded as an epitome of comfort, the recliner's construction features a combination of leather and other cloth upholsteries. Depending on your demands, this chair can be manual or electric making it easier to recline."Wingback" Even those people who don'tknow much about chairs have confessed that wingback chairs are some of the easiest to recognize. Just as their names suggest, these fashion chairs have tall wing-shaped backrests and a low-lying armrest.
They too are accent chairs that add a bit of decorative flair to your living room space. These chairs work well when placed next to the fireplace and are best for seniors thanks to their tall lofty backrests."Dining chairs" Just like your living room, your dining room can provide a perfect place for family reunions after a busy working day. Here are some chairs that you can rest on while having meals and enjoying conversations with your family."Side Chair" font_container="Side chairs have managed to find their way in this article on chairs and for a good reason. You see, most dining tables have limited space. Therefore, a typical chair such as this can help to save up space as it doesn't have arms like most chairs do."Bar Stools" In case your dining table has a high top or an island with an overhaul, then barstools are the best to consider. These types of chairs come in all sorts of designs depending on your aesthetic requirements. Some barstools have adjustable heights while others have rotating features.
Some are typical stools with no backs while others have backrests with varying heights. So, before you make your decision, it's wise if you first measure the height of your dining table to determine the type of chair you're going to buy."Wishbone Chair" If you're looking to give your dining room a mid-century appeal, then choosing a wishbone chair might be the best idea. The reason why these chairs are referred to as wishbone chairs is due to their supportive backs that split to resemble a wishbone.
These chairs have a curved back for added support and are often wooden then fitted with a cushioned wicker seat."Outdoor Chairs" If you're planning to create a relaxing atmosphere for your family and guests, then your backyard is one area you might think of. To ensure that you don't sacrifice your comfort whatsoever, here are some outdoor chairs that can help out."Folding Chairs" If you're a fan of holding backyard parties and barbeques, then it's obvious you'll need some seating space for your guests. Since indoor chairs and couches can't be used outside, folding chairs can serve their purpose here as they're all-weather friendly and easily foldable for easy storage."Wicker Chairs" These are very unique types of chairs that have been around since the late 1800s. Unlike folding chairs, these ones have curvy frames that allow them to make a statement in your backyard or beside the swimming pool. These chairs resemble chaise lounge chairs in terms of the design.  They are mostly wooden and are fitted with weatherized cushions that withstand all kinds of outdoor elements."Children and Babies Chairs" If you have kids around or maybe if you're expecting one, making some adjustments to your sitting situation will be necessary. Here are some chairs that can take care of that."Rocking Chair" A rocking chair is a smart addition to any nursery or kid's bedroom as it allows mothers to swing back and forth in a soothing motion. This magical swinging motion provides a calming therapeutic tempo that soothes your baby to sleep."Glider Chair" A glider chair is quite similar to the rocking chair only that it doesn't tilt back and forth. Its motion is more composed making it the best for nursing mothers. These chairs usually come with a dedicated ottoman glide that lets you swing smoothly and effortlessly."Conclusion" Apart from the chairs we've mentioned, there are so many other types of chairs that are available in the market. However, the ones we've mentioned here are just a fraction of the chairs you'll expect to find in most living rooms, dining rooms, kids' rooms and in your backyard.
So, whenever you think of shopping for a chair, always go through the images to determine which style appeals to you the most.