Have you been looking for an alternative for regular dry cleaning and ironing every now and then? You don't need to look anymore. The Conair Extreme Steam Hand Held Fabric Steamer with Dual Heat is a great option for anyone that's tired of ironing their clothes and dry-cleaning expenses. The machine is easy to use and it does the steaming job pretty quick giving your clothes the smooth neat appearance they need. Whether you intend to clean up liners or drapes, the steamer will give satisfactory results since it is designed to handle all kind of fabric.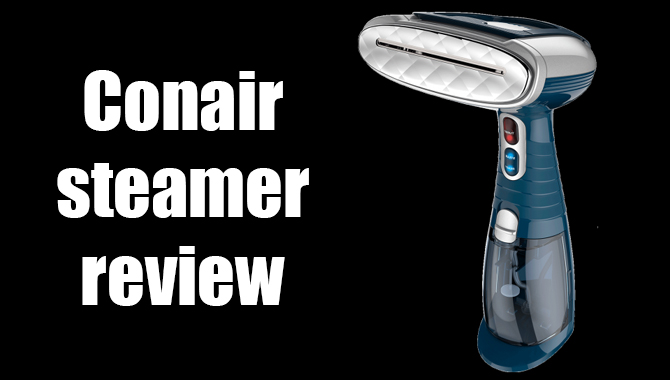 "Details Of Conair steamer review"
link="url:https%3A%2F%2Fwww.amazon.com%2Fgp%2Fproduct%2FB006CR9KGA%2Fref%3Das_li_tl%3Fie%3DUTF8%26tag%3Dtopchooser-20%26camp%3D1789%26creative%3D9325%26linkCode%3Das2%26creativeASIN%3DB006CR9KGA%26linkId%3Ded4aa667f24f1fdafdfe6cbd24bdc3c9
"review-table"
| | |
| --- | --- |
| Weight: | 3 pounds |
| Watts: | 1110 |
| Heat Up Duration: | 75 second |
| Dimensions: | 7.5 x 5.8 x 13 inches |
"CHECK LATEST PRICE!"
link="url:https%3A%2F%2Fwww.amazon.com%2Fgp%2Fproduct%2FB006CR9KGA%2Fref%3Das_li_tl%3Fie%3DUTF8%26tag%3Dtopchooser-20%26camp%3D1789%26creative%3D9325%26linkCode%3Das2%26creativeASIN%3DB006CR9KGA%26linkId%3Ded4aa667f24f1fdafdfe6cbd24bdc3c9
"Review Points of Conair Extreme Steam Hand Held Fabric Steamer with Dual Heat"
Below is a detailed outline of the features that make this Conair steam cleaner one of a kind.
"User Friendly"
Having a fabric cleaner that's easy to handle makes your fabric steaming moments quick and simple altogether. This steaming machine is designed with several features to make the fabric steaming procedure less tasking and convenient. To begin with, it has a green light indicator to show when it's ready for steaming. Also, a yellow light indicator is designed along to indicate when the steamer is turned on. It also comes with a strategically placed slide switch to enable you regulate the temperature settings conveniently. Moreover, it comes with a water reservoir that fills up quite easy.
"Versatility"
To enable you meet the steaming needs of your various fabrics at home, the steamer is designed with three detachable attachments. With these attachments you can be able to make adjustments to suit the particular type of fabric you are steaming. The attachments include: creaser for folds and pleats, soft cushion brush for delicate fabric and a fabric brush for deeper steam penetration. Compared to iron the steamer, this is remarkably versatile and saves more on time.
"Chemical Free Steaming"
Want to keep your garments free from chemicals that may make them wear out quickly? The Conair hand held steamer would be a great choice for you. This is because all you add to it is water and you are good to go.
"Dual Heat Technology"
For fast and satisfactory results, this steamer features the dual heat technology that's very efficient in delivery of hot efficient steams. The feature has two heat settings; low and high to make it capable to handle most types of fabrics. Precisely, the 395 degree high heat settings straightens out cotton and wool-made fabric perfectly, while the 200 degree low heat setting does a good job on satin, nylon, polyester and silk fabrics. Heating up duration takes 75 seconds and the steam time goes up to 15 minutes. In other words, once the steamer is refilled you can steam your garments for 15 minutes without needing another refill. Moreover, this dual heat technology makes the steamer 30% hotter and de-wrinkles 5x quicker compared to other types of steamers.
"Kills dust mites and bed bugs"
Have you been having stubborn dust mites and bed bugs all over your fabrics and been seriously wondering what to do with them? The Conair ultimate fabric steamer is all you need. Other than straightening your clothes perfectly fine, this steamer also features the capability of getting rid of bed bugs and dust mites off your garments. With this you won't have the need of fumigating your clothes every now and then. Additionally, the steamer also gets rid of tough odors from the fabric providing you with ultimate freshness all day long.
"Energy Saving" font_container="
Your electricity bills will not shoot up the moment you bring this steamer home. This is attributed to the energy-saving steam pause that's designed along to ensure that the equipment doesn't pull your leg when it comes to electricity consumption.
"Power Cord"
You don't want to experience unnecessary limitations while steaming your clothes. With that in mind, Conair brings you this incredible streamer with a 9-foot power cord that's long enough to enable you make unrestricted movements while on your steaming job.
"Quick Steaming"
It is definite that every individual has those moments in the morning when they are running late for work or a meeting. This are the moments you may be tempted to walk out with creased clothing since you don't have all the time to iron out your clothes. In such moments, this handheld steamer will have your back since it performs its job quite fast. This is thanks to its quick heating capability that will provide you with hot steams to streamline your garment in just a minute!
"Environment Friendly"
While purchasing a fabric steamer, it is essential to get one that is environment-friendly. By this I mean one that isn't noisy and also one that doesn't involve the use of chemicals that may damage your garment. This hand held fabric steamer works quietly and doesn't use chemical substances which makes it quite environment friendly.
"Quality"
How you look while presenting yourself out there determines how the world will receive you. On this, the Conair steam cleaner will not let you down because it delivers quality results. Generally, this garment steamer delivers nothing but a professional steaming quality that you would get out there from your regular dry cleaning company.
"1110 Watt"
With 1110 watt power output, this steamer delivers a hot steam to deal even with the most difficult creases on your garments.
"Large Tank"
A steamer with a large water tank extends the steam time per fill duration. This Conair ultimate fabric steamer is designed with a large capacity tank that holds up to 150 milliliters, which in turn facilitates a 15-minute steaming session.
"Portability"
If you need a steamer that you can carry around on your journeys, Conair fabric steamer would be a nice choice for you. Being hand-held, the steamer is remarkably lightweight thus you can be able to carry it on your journeys if you are a regular traveler.
"Top Features"
Ease of use
Quick heat up
Lengthened steaming time
Dual steamer settings
Slide switch for dual settings
3 removable attachments for several steaming options
Easy water reservoir refill
Kills bed bugs and dust mites
Dual heat technology
"What we liked :"
Helps in getting rid of bad odor, dust mite and bed bug invasion from your garments
Delivers quick, efficient results with the dual heat technology
The steaming accessories provided enable you to provide efficient steaming for different garment types in your wardrobe.
Provides steaming for 15 minutes non-stop with a single refill
With the 9-feet cord, the steamer enables you to make unhindered movements while steaming your clothes.
It heats up quickly; in only 75 seconds the steamer is ready for work
Has an energy-saving feature that helps in cutting down your electricity bills
"What we didn't like :"
Once damaged, it is difficult to bring it back into shape because its spare parts are hard to find
It sometimes spills water on the fabric in droplets during steaming
"Frequently Questions and Answers"
"Q: Why am I only supposed to use distilled water on this steamer?"
Ans: Using distilled water will help prevent build up on the steamer, which regularly occurs with using the regular water.
"Q. Can I use this machine to steam my drapes?"
Ans: Yes, it does a great job in steaming drapes to a perfect zero wrinkle shape. Additionally, the steamer works on most kinds of fabrics including cotton, wool, silk and satin.
"Q. How often does the steamer need a refill?"
Ans: As mentioned in the article, a single refill goes for a whole 15 minutes. This means that how many times you are going to refill the steamer depends on the amount of fabric you need to steam.
"Q. Does this steamer involve any sort of chemical use?"
Ans: Being environment-friendly, the steamer only uses water in straightening the fabrics.
"Q. What's in the Package?"
Ans: The package comes with a creaser package, handheld fabric steamer and a fabric brush attachment.
Being the kind that does not enjoy ironing doesn't mean you have to walk around with your clothes wrinkled. With the above outlined Conair fabric steamer review, you now know the way to go to have all your ironing needs well taken care of without having to do some ironing. Delivering quality de-wrinkling results and ease of use, it would be a great solution to giving your garments a captivating spotless look. Moreover, the steamer is capable of handling most types of fabrics thus an assurance of providing you with satisfactory steaming for your entire wardrobe.
"Check Latest Price"
link="url:https%3A%2F%2Fwww.amazon.com%2Fgp%2Fproduct%2FB006CR9KGA%2Fref%3Das_li_tl%3Fie%3DUTF8%26tag%3Dtopchooser-20%26camp%3D1789%26creative%3D9325%26linkCode%3Das2%26creativeASIN%3DB006CR9KGA%26linkId%3Ded4aa667f24f1fdafdfe6cbd24bdc3c9
"You may also like:"