Are you wondering where do hermit crabs live and how long do hermit crabs live? This guide will help you understand more details about hermit crabs. Crabs have been around since at least 200 million years ago; a land or water-dwelling animal with a short, flat, nearly circular body.
The crab is a crustacean, distinguished from lobsters, shrimps and other crustaceans by the shape of its body. The head and thorax are fused together to form a shell or carapace and the small abdomen (tail) is folded under the shell. Crabs have 10 legs, the front pair sometimes growing into large claws while ocean dwelling crabs that swim have only one pair of legs adopted into paddles.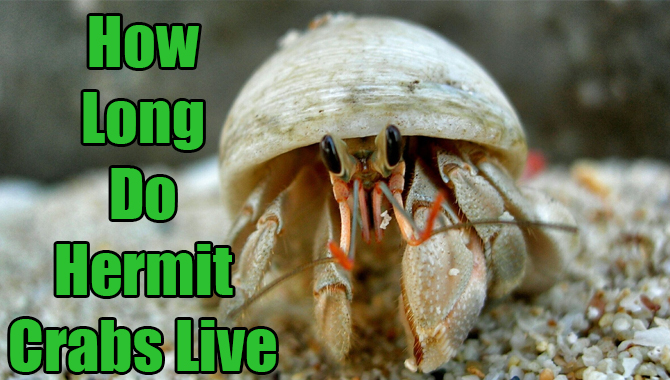 "What is a hermit crab?"
Hermit crabs have a soft abdomen they need to hide in a second-hand shell because it is easily damaged by predators and dried out by direct sunlight; a hermit crab without a shell is very exposed and has to resort to plastic containers and other litter to survive since they cannot grow shells.
Unlike human hermits that live alone, the crabs enjoy each other's company and live in large colonies where they trade shells; sleep piled together and even forage for food in teams although the competition also leads to fights especially over shells when there is a shortage.
"What is the lifespan of hermit crabs?"
Hermit crab lifespan is expected to live up to 30 years of age and up to 20 years in captivity with proper care given. This number plummets to less than a year if they are not looked after well, "crabitats" such as hermit crab tanks can be dangerous places.
Hermit crabs are scavengers that can eat their own kind so occasionally they might kill each other in what has come to be known as "shell" fights, where the loser surrenders or is ripped out of his shell. Naked hermit crabs are vulnerable to claw attacks and while molting become even easier targets for others in the habitat that can dig them up to eat.
Many crabs also die slowly of suffocation because their modified gills need high humidity levels in the air to breathe. Tap water and paint from decorative shells have also proven to be toxic to hermit crabs in captivity as they tend to eat paint particles that fall off the shell and drink the tap water if it's given.
You should also know that hermit crabs can be poisoned easily by detergents and other cleaning sprays in the house. Even the smallest amount can harm them because they don't have the ability to wash off the toxins on their own.  This forces them to push some parts like their legs. Crabs taken out of the crabitat might be exposed when placed on a surface that is cleaned with detergents and other harmful chemicals such as carpets and perfume respectively.
Stress also affects their lifespan and behavior patterns, loneliness is one of the most important factors as hermit crabs are social animals which is why they are usually bought together with some friends to keep them company. This brings on problems such as over-crowding if the hermit crab tanks space is too small.
"Do hermit crabs make good pets?"
Hermit crabs can be happy in captivity which is the most important factor for their viability as pets. They are inexpensive and valued as intelligent companions with different personalities, complex behavior and favored for their exotic looks such as the strawberry hermit crab that sports a distinct color.
They serve as ambassadors for other marine life particularly because of their habit of using trash on the beach as shells which brought attention and action to the problem
Prone to pinching skin with their pincers hermit crabs are generally friendly when handled carefully. The clumsy should beware for hermits are terrified of heights and a three foot fall could be lethal. Once trust is gained they enjoy being held and don't hide in their shells as much once they get used to their new home.
Their specific needs can teach young pet owners about the responsibility it takes to care for another creature more effectively than less delicate pets especially when more than one is being raised.
Just a few types of hermit crabs are available to buy out of more than 600 species. Each with their own unique characteristics and need notably the purple pincher which is the most common type of hermit crab for sale because it's the toughest and like the name suggests purple.
Hermit crabs might seem daunting to care for but once their needs are understood this is not the case, natural scavengers. The hermits are omnivorous like humans and eat nearly anything in the wild. A balanced diet of both plant an animal matter is recommended and the hermit crabs are treated to some of their favorite food once in a while, for example, coconut shavings which they all seem to love, the coconut husks can also be used by the crabs as hiding places.
How can you make your hermit crab live longer?"
Once hermit crabs are brought home they go through an adjustment phase where they should not be disturbed except to change out their food and water because they might be stressed for a few days to weeks and even months until they are comfortable with you.
Make a nice home for the crabs with live plants, hiding places such as coconut shells and broken flower pot pieces.
Hermit crabs are scavengers and will eat almost anything but don't give them food with any preservatives, hot (temperature) or spicy, they like seafood like shrimp, bloodworms . They can eat raw meat although they seem to have a sweet tooth and have been known to favor natural peanut butter.
Hermit crabs also love different fruits and vegetables like bananas, apples, watermelon, grapes, and strawberries; they should be washed to remove any pesticides.
Try not to make loud noises while handling them as this is bound to cause stress.
Don't discipline your crabs when they pinch you because it is an instinct and they will not understand and do it mostly because of a fear of falling. Hold your hand over or on a table while holding the crab and gently place it on a flat surface if you are pinched.
Hermit crabs are social animals and live in colonies of up to a hundred in the wild so it is advisable to buy 2, 4, 5 or more which makes them more active, behavior such as pushing and feeler fights is no cause for concern except when the crabs are making noises and one is trying to steal another's shell.
They will be happier if you take some time out of the day to play with them but not very often because too much interaction with humans can stress them out although some hermit crabs love the attention. Climbing is their nature and toys are available for the crabs to amuse themselves with and they should also be taken out of the tank when awake.
Hermit crab species require access to both fresh and saltwater. The crabs require up to two dishes of water and the dishes should be deep enough for your crab to get water in its shell. Strawberry hermit crabs require to be submerged fully and still be in a position to get out of the dish with some rocks around the area because the crabs find plastic slippery to climb.
You can choose to purchase aquarium salt for marine fish that are sold in many pet stores but make sure that you do not use it for human consumption since it contains anti-cracking agents that are harmful.
The chlorine and other heavy metals present in tap water are not good for hermit crabs because they can kill them because their gills can blister. If you're using tap water, you must have a dechlorinator
Use vinegar for cleaning purposes because other products are too abrasive for use in the hermit crabs environment.
"How to take care of hermit crabs?" f
Hermit crabs are nocturnal and sleep throughout most of the day and are more active at night when they usually eat.
The hermit crab tank size should depend on how many crabs you have and how large they are. If you have between 2-4 small hermit crabs, they can fit in a 10 or 20-gallon tank. Between 20-40 gallon tank is ideal for 12 small crabs or4 large hermits.
The average houses humidity is about 40% and less with heat and an air conditioner. The first step to creating and maintaining hermit crab humidity in your tank is a good lid and a hygrometer to help you keep a 75-78% relative humidity in a crabitat. If you have strawberry hermit crabs, ensure that the humidity higher (80%). If the humidity is lower than 70%, this can lead to suffocation which can kill the crabs slowly over weeks or maybe months and this can be painful.
A thermometer can help you monitor the crabitats temperature. Because hermit crabs are tropical creatures and like warm temperatures ranging from 75-85°F temperatures, too low temperature can make the crab to be lethargic, inactive, end up losing their limbs and possibly die.
Substrate refers to the material you keep at the below the tank. Sugar sized arrogate hermit crab sand is a quality grade for a hermit crab tank. The substrate should be changed every six months when the crabs are not molting and checked for any dung, mold, and food the crabs might have buried.
Hermit crabs molt as they grow and they, therefore, require bigger shells because their exoskeletons won't fit in their old ones. You should provide more shells that look like your crabs' sizes in the tank, rotating out unwanted ones occasionally with different shells.
Purple pincher crabs prefer shells that feature round openings and Ecuadorian hermits go for shells with oval-shaped openings.
"How long does it take a hermit crab to molt?"
Molting is how hermit crabs grow; the 16-inch coconut crab is one of the largest hermit crabs in the world and the half an inch Ecuadorian hermit crab among the smallest. The larger the crab, the longer it takes to molt with medium sized ones taking four to eight weeks on average and smaller ones taking the least time.
During this period the hermit might appear dead while buried under the sand but must not be disturbed unless it has taken longer than usual and the stench of rotting fish is detected coming from the tank, this is a sure sign it has died.
The molting process starts with a preparation stage where the hermit crab eats large amounts of food and digs a hole in the sand to bury itself for the duration of the process. It leaves its shell while buried; shedding of the exoskeleton begins followed by a recovery stage where the old exoskeleton is eaten for nutritional benefits that help in regenerating lost limbs and making the new exoskeleton grow bigger and stronger.
The sand needs to be deep enough for the hermit crabs to dig a suitable hole because the sand on the beach is deeper than you would find in a tank so a separate tank with deeper sand just for molting is recommended since a naked hermit crab would be vulnerable to attacks. Ensure that the substrate is around three to five times the height of your larger crab. You should also ensure that you have a material that will make it easy for the crabs to build caves as well as dig to get rid of stress and molt.
After molting the crabs are looking for bigger shells to accommodate their growth and have been observed forming 'vacancy chains' where they line up in order of size and exchange shells or fight over them in more desperate situations.
"Final Words"
Land hermits live on seashores in tropical areas where they are captured. They need to access saltwater and freshwater so that their gills are wet or damp because this helps them to survive as well as reproduce. They must have a tropical climate and most importantly the ocean to breed; this has been successful in captivity with a 100-gallon setup which was a victory for conservation science.
Good examples of how adjusted hermits become an easy going lifestyle compared to scavenging is how it's advised not to release them into the wild and fights started by new arrivals in a crabitat. I believe you now know how long do hermit crabs live as well as other important details covered in this guide.