If you have been looking for some means to staying healthy within the comfort of your home, purchasing an exercise bike would do. A recumbent exercise bike will enable you to have your workout sessions right inside your home without the need of going out to a gym. We bring you the Marcy me 709 recumbent exercise bike that is regularly used by fitness individuals who are not able to visit the gym for one reason or the other. With a great design and all the features you would need for a productive workout session, the bike is a great exercise equipment that is worth investing in. First of all we begin with a description table highlighting the major specifications of the bike.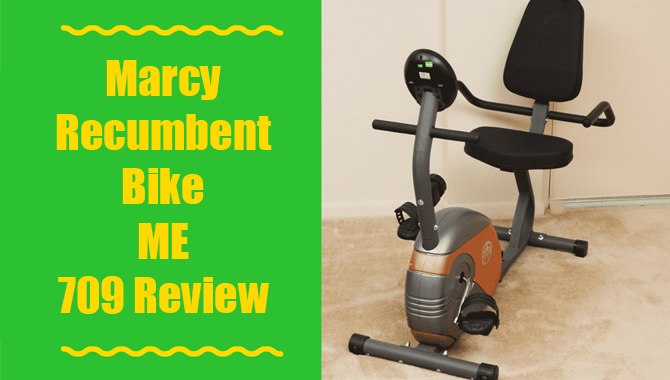 "Details Of Marcy Recumbent Bike ME-709"
link="url:https%3A%2F%2Fwww.amazon.com%2Fgp%2Fproduct%2FB002KV1MJU%2Fref%3Das_li_tl%3Fie%3DUTF8%26tag%3Dtopchooser-20%26camp%3D1789%26creative%3D9325%26linkCode%3Das2%26creativeASIN%3DB002KV1MJU%26linkId%3D88567d92fb75c8ec4ae763365d17b13d
"review-table"
| | |
| --- | --- |
| Weight: | 60lbs |
| Weight Capacity: | 300lbs |
| Dimensions : | 55.5L x 25W x 37.5H inches |
| Battery Type: | 2 AA batteries |
| Resistance: | Magnetic |
| Other Features: | 8 resistance levels, portability, LCD display, adjustable pedals, counter balanced pedals |
link="url:https%3A%2F%2Fwww.amazon.com%2Fgp%2Fproduct%2FB002KV1MJU%2Fref%3Das_li_tl%3Fie%3DUTF8%26tag%3Dtopchooser-20%26camp%3D1789%26creative%3D9325%26linkCode%3Das2%26creativeASIN%3DB002KV1MJU%26linkId%3D88567d92fb75c8ec4ae763365d17b13d
"CHECK LATEST PRICE!"
link="url:https%3A%2F%2Fwww.amazon.com%2Fgp%2Fproduct%2FB002KV1MJU%2Fref%3Das_li_tl%3Fie%3DUTF8%26tag%3Dtopchooser-20%26camp%3D1789%26creative%3D9325%26linkCode%3Das2%26creativeASIN%3DB002KV1MJU%26linkId%3D88567d92fb75c8ec4ae763365d17b13d
"Review Points of Marcy Recumbent Bike ME 709"
Let's now have a look at the outstanding features you will get to enjoy once you purchase this workout equipment.
"Eight Resistance Levels"
This Marcy me 709 recumbent exercise bikes is designed with eight resistance levels. These levels are meant to create varying resistance levels to enable you to ride on different terrains. Precisely, these eight resistance levels are ideal for interval training that does a great job on hitting fitness goals pretty quick. This way you will be able to customize your workout session in accordance to your fitness needs.
"Comfortable Seat"
A recumbent exercise bike that provides a comfortable seating will make your workout sessions more productive. With that, this Marcy exercise bike features a comfortably designed seat to provide all the comfort you need for fulfilling fitness sessions. Particularly, the seat is designed with comfortable high density and ergonomic foam-covered handles for a soothing support to the arm and the back as well. The ergonomically designed seat also ensures that you get to sit in a proper healthy position while riding.
"Compact"
Do you have a limited home space and you are looking for an exercise bike that won't consume much of your space? This Marcy me-709 comes with a compact design that makes it convenient for use in small spaces. Moreover, the bike also has wheels that make its transportation stress-free.
"Counter balanced Heel Pedals"
The Marcy me 709 also features balanced weighted pedals to provide your heels with a convenient position for comfortable riding. Moreover, foot straps are included to create a comfortable fit for individuals with varying heel lengths. Not to forget to mention, this pedal design also gives room for forward and backward cycling.
"LCD Display"
Observing your progress during your exercise sessions keeps you motivated to stay at it. For that reason, this recumbent exercise bike comes with an easy to read display that keeps you updated on your workout data. This includes the distance covered, burnt calories, time and speed. One good thing with the screen is that it displays the data in large numbers so that you can have a comfortable view without having to halt the exercise. You will also need to note that distance here is measured in miles while the speed in measured in MPH.
"Convenient Smart Design"
If you are much involved in workout activities, you must have come across some kind of exercise bikes that tend to injure the user while mounting the bike. Well, that's not the case with the incredible Marcy recumbent bikes. This is thanks to its step through design that allows you to mount and dismount the bike easily without the risk of getting injured. The design also provides room for unlimited mobility during the workout sessions. More to this is the 14 gauge steel design that makes the bike strong and long lasting. The armrests are also removable to enable you create an extra space in case you need it.
"Weight Limit"
Having a weight limit of 300 pounds, this workout equipment is able to take up the weight of most individuals. However, individuals weighing 350 pounds also use the bike comfortably. Nevertheless, if you weigh more than this you are advised to get an alternative that is stronger. Important to note is that the weight capacity of this bike is remarkably high compared to that of other exercise bikes within the same price range.
"Adjustable Resistance"
A productive workout program involves being able to grow from one level of exercise to another. This Marcy recumbent mag cycle provides variable resistance that enables you to enhance the intensity of the workout from one level to the other. The transition knobs featured are well designed for a hassle-free transitioning.
"Frame Construction"
The steel frame construction of this exercise bike is thoughtfully designed to provide a simple but sturdy built. Firstly, the back of the frame is made with a squared tuning to make it long lasting. On the other hand, the base of the equipment comes with plastic caps that are meant to enhance its stability.
"Easy set up"
Assembling this workout unit is quite easy thanks to the assembling equipment that is provided by the manufacturer. Basically, the assembling process involves a number of processes which include: joining the major pieces of the frame, attaching the front and back base, the backrest, the seat, the pedals and the handle bars. The entire procedure will not consume more than an hour of your precious time.
"Maintenance"
This is not the kind of a bike that demands a lot from you when it comes to maintenance thanks to its magnetic resistance design. The only thing you will need to do on maintaining the bike is removing dust from the frame using a wet towel or clothing.
"Quiet Operation"
If you live in an apartment, you definitely will need a workout bike that's quiet to avoid being a nuisance to your neighbors every time you are working out. This Marcy adjustment exercise bike is ideal for such situations since it delivers a quiet smooth operation. Additionally, with the bike you can be able to listen to some radio program or TV show as you work out without getting noise interruptions.
"Top Features"
Magnetic release system
8 resistance levels
Relaxed padded seat
Counter balanced pedals
Easy to read display
Portability
Quiet cycling
"What we liked :"
Provides rapid fitness results with the interval training that's facilitated by the eight adjustable resistance levels
With the pedal adjust straps, the user is able to make adjustments to suit the size of their feet avoiding injuries
Since it doesn't produce noise, you can ride as you watch your favorite TV program
Assembling the machine is pretty easy with the clear setup instructions provided by the manufacturer
Viewing your workout data from the display screen provided is effortless with the large number display
With the counter balanced weighted pedals, you are able to take control of the bike and have an exciting riding session.
The design of the bike provides a safe mounting and dismounting to prevent injuries
"What we didn't like :"
It lacks pre-programmed work out programs
"Frequently Questions and Answers"
"Q: Does the bike operate quietly?"
Ans: Yes, its operation is quiet. You don't have to alert your neighbors every time you are on your workout sessions.
"Q. How much does it weigh and can I use it with 350 pounds weight?"
Ans: The bike weighs 60 lbs and has a 300lb-weight limit. However, from customer reviews it is indicated that users weighing at about 350 pounds have been able to use it comfortably.
"Q. Will I need to hire a professional for assembling?"
Ans: Setting up this equipment is quite easy using the assembling guide that's provided. Therefore, you really will not need to pay someone for the job.
"Q. I have an injury I'm nursing and I fear the risk of falling from the exercise bike. Is there any chance that I could fall?"
Ans: With the fact that the bike's seat has side handles, falling is out of the question as long as the equipment is placed on an even ground.
"Q: Will I really lose weight with this equipment?"
Ans: Absolutely! Especially with the interval training that's provided by the 8 adjustment resistance. However, you should note that eating healthy goes hand in hand.

Having gone through the Marcy me 709 recumbent exercise bike review above, it is without doubt that you now know the way to go if you need an indoor exercise bike that delivers results and also one that's sturdily built. Regardless of it being a simple workout equipment, it does a great job in enhancing your cardiovascular endurance and weight loss as well. Besides, it won't take much of your home space. So, why don't you buy it and say goodbye to your daily early morning drives to the gym!
"Check Latest Price"
link="url:https%3A%2F%2Fwww.amazon.com%2Fgp%2Fproduct%2FB002KV1MJU%2Fref%3Das_li_tl%3Fie%3DUTF8%26tag%3Dtopchooser-20%26camp%3D1789%26creative%3D9325%26linkCode%3Das2%26creativeASIN%3DB002KV1MJU%26linkId%3D88567d92fb75c8ec4ae763365d17b13d