If you would like to entirely quit your early morning trips to the gym for cardio exercises, the schwinn 270 recumbent bike is the way to go. The bike comes with numerous inbuilt workout programs and a high tech performance for maximum workout results. Also, the bike's stability coupled up with high resistance levels makes it a top choice bike for individuals seeking to tone their lower body muscles. Basically, you can never go wrong while using this incredible recumbent bike for your home exercises. To give you a glimpse of this exercise bike's impressive features, take a look at the table below.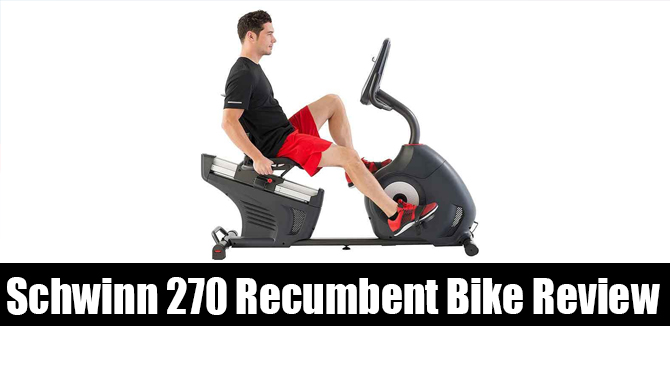 "Details Of Schwinn 270 Recumbent Bike"
link="url:https%3A%2F%2Fwww.amazon.com%2Fgp%2Fproduct%2FB01MS7EWR9%2Fref%3Das_li_tl%3Fie%3DUTF8%26tag%3Dtopchooser-20%26camp%3D1789%26creative%3D9325%26linkCode%3Das2%26creativeASIN%3DB01MS7EWR9%26linkId%3Dfb706b6f2cfd3a7c7b935399131dc1aa
"review-table"
| | |
| --- | --- |
| Weight: | 93 Pounds |
| Flywheel: | 17lbs |
| Resistance levels: | 25 |
| Dimensions : | 66.5 x 12.5 x 27.5 inches |
| Other Features: | 29 workout programs, comfortable seat, perimeter weighted flywheel, grip heart rate, fully equipment console |
link="url:https%3A%2F%2Fwww.amazon.com%2Fgp%2Fproduct%2FB01MS7EWR9%2Fref%3Das_li_tl%3Fie%3DUTF8%26tag%3Dtopchooser-20%26camp%3D1789%26creative%3D9325%26linkCode%3Das2%26creativeASIN%3DB01MS7EWR9%26linkId%3Dfb706b6f2cfd3a7c7b935399131dc1aa
"CHECK LATEST PRICE!"
link="url:https%3A%2F%2Fwww.amazon.com%2Fgp%2Fproduct%2FB01MS7EWR9%2Fref%3Das_li_tl%3Fie%3DUTF8%26tag%3Dtopchooser-20%26camp%3D1789%26creative%3D9325%26linkCode%3Das2%26creativeASIN%3DB01MS7EWR9%26linkId%3Dfb706b6f2cfd3a7c7b935399131dc1aa
"Review Points of the Schwinn 270 Recumbent Bike"
A look at the detailed Schwinn 270 recumbent bike review will help you make an informed decision next time you are purchasing one.
"Resistance Levels"
The more resistance levels you engage in, the more it becomes possible for you to attain your fitness goals pretty quick. This recumbent bike is designed with 25 resistance levels that allow you to engage in varied workout intensities during your workout sessions. Whether you want to take it slow or engage in uphill challenging intensities, these levels make it possible for you.
"Workout Programs"
To offer you maximum workout support, this bike comes with 29 inbuilt programs from the manufacturer. The programs include: 9 heart rate controls, 4 custom programs, 1 quick start, 12 profiles and 2 fitness tests. Compared to other Schwinn bikes, this model is designed with the highest number of inbuilt exercise programs.
"Accessories"
This Schwinn recumbent bike 270 comes with several accessories to make your workout sessions enjoyable as well as bearable. First of all, the bike is designed with a media port and a USB charging. The MP3 port allows you to connect your MP3 device to stay entertained as you exercise while the USB port ensures that the device never runs out of charge. Moreover, this exercise equipment also features an adjustable fan to provide you with a cool workout atmosphere. Secondly, there is also water bottle holder that ensures your hydration needs are well catered for as you exercise. Another of its special features is the media shelf provided to give space to store your smart phone or iPhone while you work out.
"Console"
The large console of this Schwinn exercise bike comes with two blue backlit LCD display screens to enable you view your workout data conveniently. You can view data concerning distance covered, time consumed, speed, heart rate, calories burnt and intensity level.It's also from the console that you can be able to select your preferred training program out of the 29 provided. Also, placed on the console are speakers to provide you with a great sound system for your favorite iTunes.
"Bluetooth Functionality"
If you would love to have an advanced workout tracking, this recumbent bike will be good for you. This is made possible by the Bluetooth function enabling you to link your workout data with the Schwinn trainer 2 app that's great for goal tracking. Note that you are not limited to the Schwinn trainer but you can track your fitness goals with a number of other fitness apps.
"Heart Rate"
A grip heart rate positioned on the handle bars will enable you track your heart work rate. Also, if you need to track your heart rate more accurately you can separately purchase a chest strap monitor.
"Padded Seat"
Riding on an exercise bike with a comfortable seat bottom and backrest makes your workout sessions less exhausting and highly productive. This incumbent bike comes with a padded seat intended to make you comfortable as you exercise. Additionally, the slider seat rail is made of aluminum and has an easy lever seat adjustment. The adjustment option provided makes the bike quite useful especially if the bike is to be shared among several individuals.
"Oversized Pedals"
You may wonder what the big deal is with the biking pedals but I promise they contribute a big deal to your training results. Basically, the more comfortable your pedals are the more you are able to ride conveniently even without noticing how time goes by. This bike has big sized pedals that facilitate a smooth biking motion in turn making your workout sessions quite fulfilling.
"Assembly"
The bike doesn't come fully assembled from the manufacturer thus the assembling job is left for you. However, this shouldn't be a bother with the step by step user guide to make you familiar with the process. The only thing you need to note is that the process may consume one or two hours because there are several pieces of the bike that need to be put together.
"User Profiles"
Do you have several members in your family interested in recumbent bike training? Well, you don't have to purchase several of them thanks to the schwinn recumbent bike 270 that's designed with 4 user profiles. With the feature you can have several individuals using the bike while storing their workout data separately.
"Back Comfort"
From a number of recumbent bikes reviews, it is indicated that a good number of people that purchase these training bikes are those dealing with back pain. With that, comfort is a key factor in a recumbent bike. With that in mind, Schwinn 270 is designed with an advanced lower support that's meant to protect the user's back from being exposed to any kind of strain.
"Quiet"
With the great sound system, the bike has a smooth quiet operation to be able to enjoy the music with any interrupting noise. With the flywheel that guarantees a smooth riding experience you get to enjoy a quiet environment while training.
"User Weight"
With a 300 weight capacity, the bike has the capability of accommodating average-size individuals.
"Top Features"
25 intensity levels
29 inbuilt workout programs
Large console with a double backlit LCD screen
300lbs weight capacity
Padded seat
Smoot quiet operation
Bluetooth connectivity
Chest strap heart rate monitor compatibility
Easy assembly
Energy efficiency
Portability
"What we liked :
With the Bluetooth connectivity feature, users can track their fitness goals with the Schwinn trainer app, MyfitnessApp among many others. The preference is all yours.
With 29 workout programs, you will have plenty of exercising options all meant to suit your training needs.
The 25 intensity levels provided enable you to engage in various training intensities to make your training sessions worthwhile.
Assembling the bike won't require you to hire a professional with the clear step by step assembling manual provided by Schwinn.
In instances where you need to move the bike from one room to another, you will able to do it with the mobility wheels provided.
The padded seat and lower back support of the bike ensure that you enjoy maximum comfort as you exercise.
The bike has a large console that allows you to view your workout data conveniently without having to halt your training activities.
Several accessories including a water bottle holder and a cooling fan are provided to make your experience better.
Just so that you don't get bored with the training sessions a media port is featured to enable you listen to your favorite tunes as you work out.
"What we didn't like :"
The built-in speakers have greater chances of blowing up.
"Frequently Questions and Answers"
"Q: Does the padded seat move?"
Ans: With the adjustable feature, front to back movements occur to accommodate varying heights but side to side movements don't happen.
"Q. How do I assemble the bike?"
Ans: An assembling manual is provided by the manufacturer to help you with entire process.
"Q. Will the bike support my 350lbs weight?"
Ans: Though the bike's maximum limit is indicated by Schwinn, the bike can also hold individuals weighing 350lbs as derived from several customer reviews.
"Q. Does the unit jiggle around?"
Ans: No, Schwinn 270 is very sturdy and such occurrences have only been heard of in instances of poor handling.
Having gone through the Schwinn 270 recumbent bike review, you now can attest that Schwinn is providing training bikes with high quality as those of their renowned outdoor bikes. This recumbent will not disappoint in terms of performance and longevity. Moreover, you don't have to break the bank to get this handsomely featured bike.
"Check Latest Price"
link="url:https%3A%2F%2Fwww.amazon.com%2Fgp%2Fproduct%2FB01MS7EWR9%2Fref%3Das_li_tl%3Fie%3DUTF8%26tag%3Dtopchooser-20%26camp%3D1789%26creative%3D9325%26linkCode%3Das2%26creativeASIN%3DB01MS7EWR9%26linkId%3Dfb706b6f2cfd3a7c7b935399131dc1aa
"You may also like:"