Air compressors are essential pieces of equipment in various industries. They are used to power tools, inflate tires, and clean surfaces. As such, they must be reliable, durable, and efficient.
Fortress air compressors are renowned in the market for their high performance, quality construction, and affordability. However, many people are often curious about the source of these machines. Who designs and manufactures them? What are their values, and what sets them apart from other brands? These are valid questions that deserve answers.
Here, we will delve into the source of who makes Fortress air compressors to give you an in-depth understanding of the company behind these powerful machines. We will explore the history of the brand, its mission and values, and the people who make it all happen. You will learn about the rigorous processes of making these compressors, the technology used, and the quality standards upheld.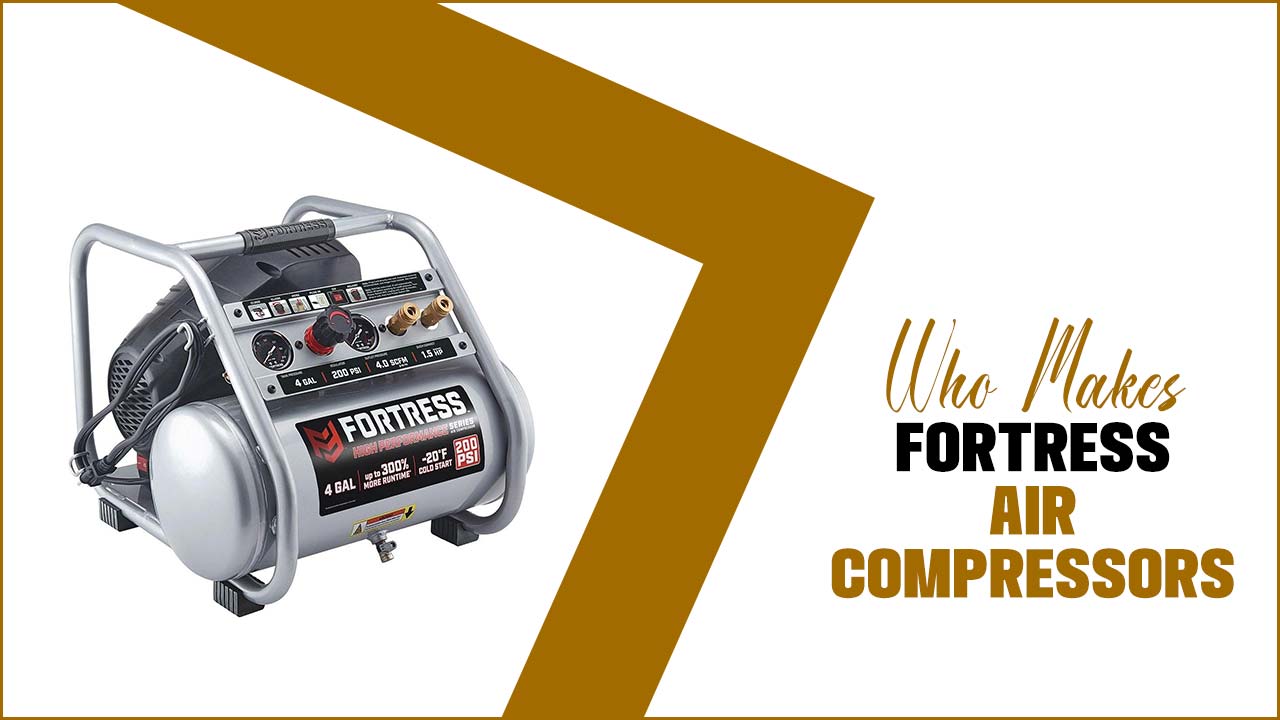 Who Makes Fortress Air Compressors – A Look Into The Brand's Creators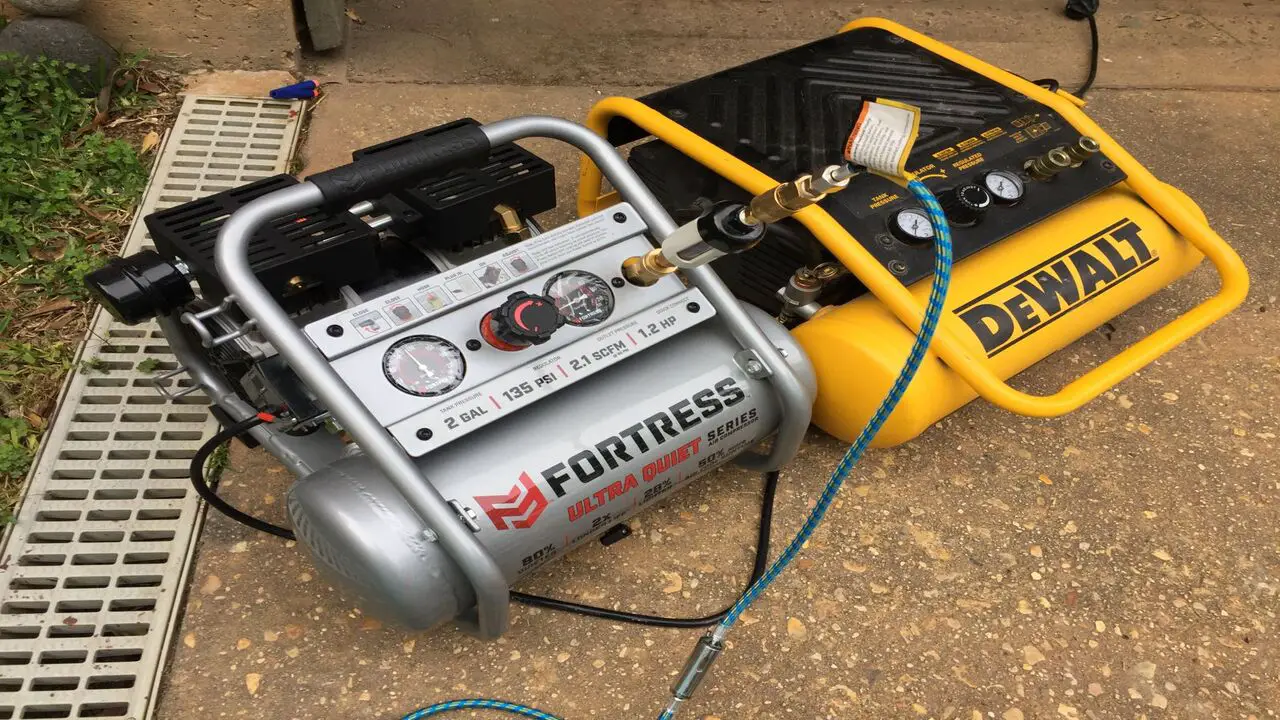 Fortress is a well-known brand that produces high-quality products for those looking for a reliable air compressor. But who makes Fortress air compressors? The answer is Harbor Freight Tools, a company in the business for over 40 years. Harbor Freight Tools is a leading retailer of tools and automotive equipment and has expanded its product line to include air compressors.
They have a team of engineers and designers who work closely to create products that meet the standards of professionals and DIY enthusiasts alike. Fortress air compressors are designed to be durable, efficient, and user-friendly, making them ideal for various applications. They come in various sizes and styles, from portable models to heavy-duty ones that can power multiple tools simultaneously.
2.History And Background Of The Company That Makes Fortress Air Compressors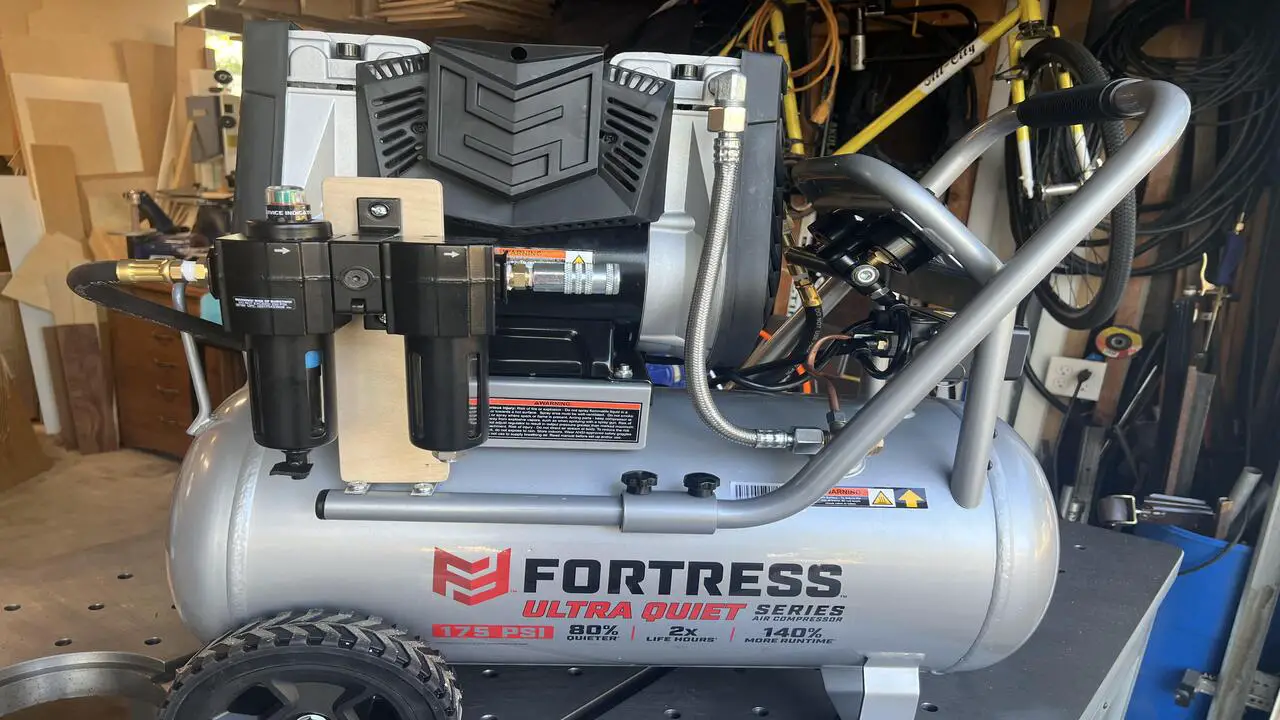 Fortress air compressors are a product of the Harbor Freight Tools Company, a leading American retailer of affordable, high-quality tools and equipment. The company was founded in 1977 by Eric Smidt and his father, Allan Smidt, who started by selling tools from a truck and gradually expanded their business to include multiple retail stores nationwide.
The company's mission has always been to provide customers with the best possible tools and equipment at the lowest possible prices. In 2013, Harbor Freight Tools introduced its Fortress line of air compressors, quickly becoming a popular choice among DIY enthusiasts and professionals.
These air compressors are known for their high performance, durability, and reliability, making them a valuable investment for anyone needing a versatile air compressor for their workshop or job site.
3.Types And Specifications Of Fortress Air Compressors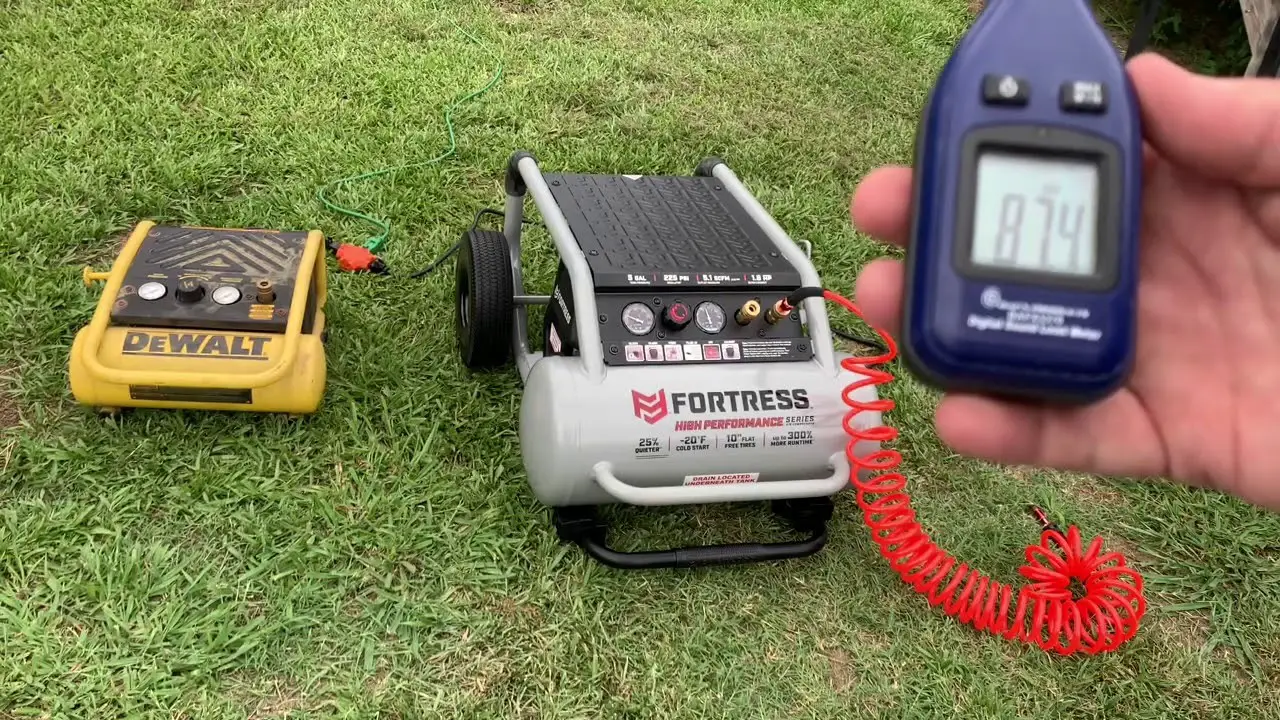 Understanding the types and specifications of Fortress air compressors is crucial if you want to make an informed decision when choosing the right compressor for your needs. Compressors come in different types, each designed for specific applications. Knowing the type of compressor you need will ensure you get the best performance and efficiency.
Types 
 Fortress Ultra Quiet Series: Known for its noiseless function and oil-free pump, this compressor is ideal for indoor use.
Fortress Steel Tank Series: With a durable steel tank, this compressor is a great option for heavy-duty jobs like painting and sanding.
Fortress Hand Carry Series: This portable compressor is lightweight and ideal for on-the-go projects.
Fortress 27 Gallon Oil-Free Professional Series: This compressor offers a large capacity and is designed for professional use.
 Fortress 2 Gallon Compact Air Compressor: This small, lightweight compressor is perfect for small tasks like inflating tires and sports equipment.
specifications 
 Maximum PSI: ranges from 125 PSI to 175 PSI
Tank Capacity: ranges from 1 gallon to 27 gallons
Horsepower: ranges from 0.5 HP to 8 HP
Voltage: ranges from 120V to 240V
Pump Type: oil-free or oil-lubricated
Pump Speed: single-stage or two-stage
Airflow: CFM rating ranges from 0.7 CFM to 11.5 CFM
Noise Level: varies depending on the model, typically ranging from 61 dB to 78 dB
Duty Cycle: varies depending on the model, typically ranging from 50% to 100%
Weight: varies depending on the model, ranging from 14 lbs to 258 lbs
4.Features And Benefits Of Fortress Air Compressors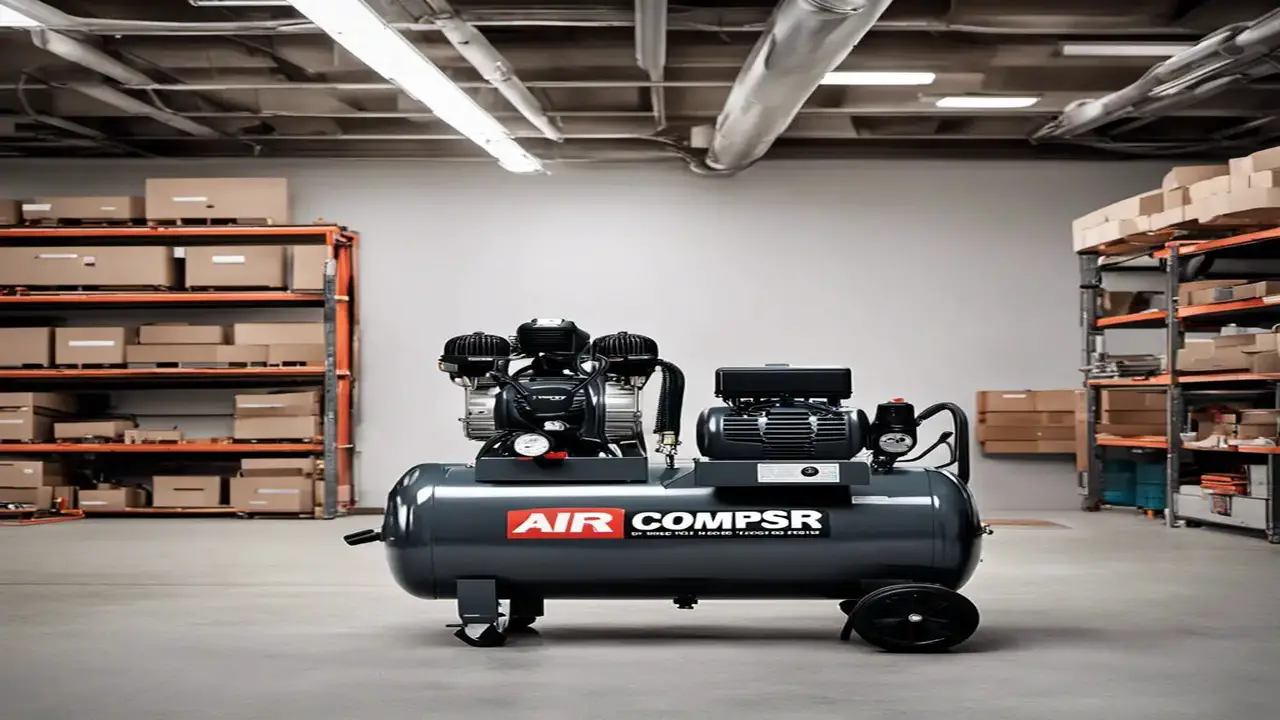 It is crucial to understand the features and benefits of Fortress air compressors for many reasons. Firstly, by knowing the features of these compressors, you can make an informed decision about which model best suits your needs. With features such as high CFM output, oil-free operation, and compact design, you can choose a compressor that meets your requirements.
Features of Fortress air compressors
 High-performance motor for efficient and quick operation
 Oil-free pump design for maintenance-free usage
Automatic start/stop function for convenience and energy savings
 Compact and portable design for easy storage and transportation
Built-in accessory storage for easy access and organization
Rubber feet for stability and reduced vibration
 Equipped with a pressure regulator and gauges for precise pressure control
Durable construction for long-lasting use
Available in different sizes and capacities to suit various needs and applications.
benefits of Fortress air compressors
 High-performance and durable design
 Low noise level during operation
Oil-free pump that requires little maintenance
Portable and easy to move around
It can be used for various applications, such as inflating tires, powering air tools, and painting.
Comes with a variety of accessories for versatile use
How To Choose The Right Fortress Air Compressor For Your Needs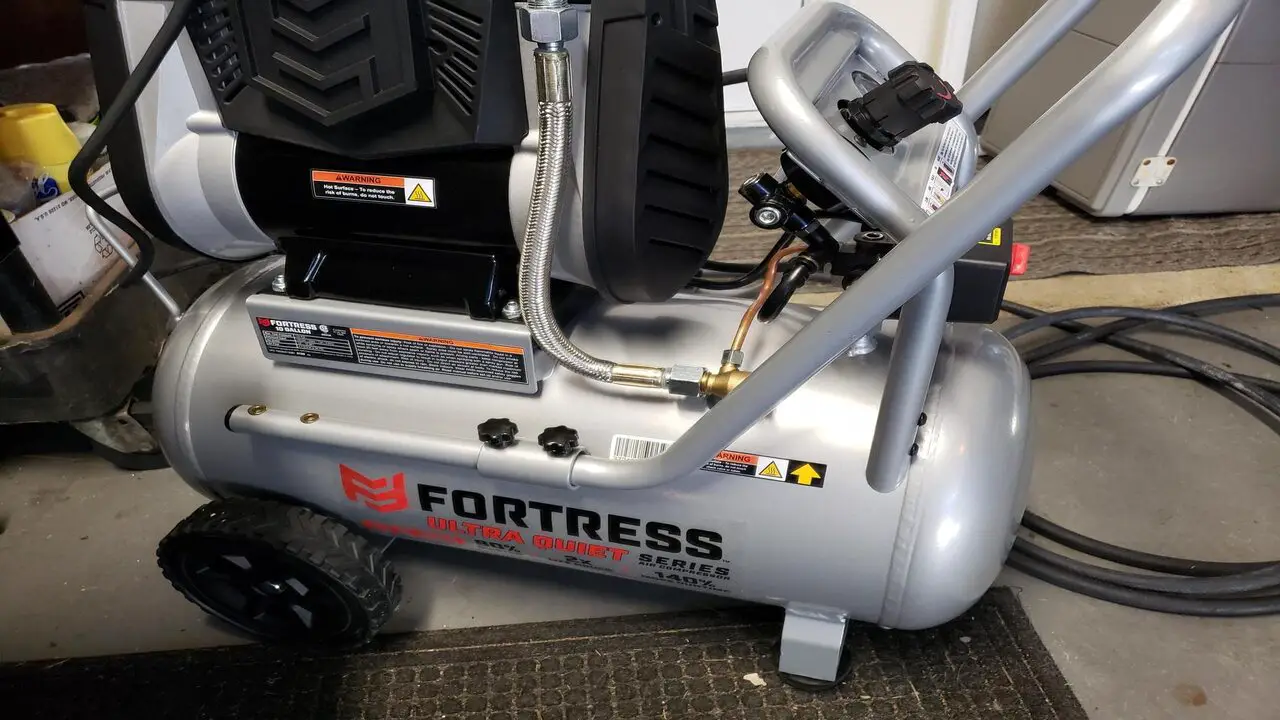 Choosing the right air compressor can be daunting, especially if you are new to the world of compressors. One of the most reputable brands in the industry is Fortress, which offers a range of air compressors suitable for different applications. The first step in choosing the right Fortress air compressor for your needs is determining what you will use it for.
 Determine the intended use of the air compressor.
Consider the power source of the air compressor (electric or gas-powered).
Determine the required airflow and pressure for your intended use.
Consider the portability and weight of the air compressor.
Decide on the tank size based on your intended use and available space.
 Look for additional features such as noise level, oil-free operation, and automatic shut-off.
Read reviews and compare prices of different models before making a final decision.
5.Comparison Of Fortress Air Compressors With Other Brands
Knowing the comparison of Fortress air compressors with other brands is crucial when making an informed purchasing decision. It's important to know what differentiates Fortress from its competitors and what it offers that others don't. A Fortress air compressor's most significant benefits are its durability and reliability.
 Fortress air compressors are known for their durability and high-quality build, making them a reliable choice for heavy-duty applications.
Compared to other brands, Fortress compressors often come with more features at a similar price point, such as digital displays and automatic shutoff.
 Fortress compressors are designed with noise reduction in mind, making them a quieter option than some other brands.
Some customers report that Fortress compressors have longer pump life and require less maintenance than other brands.
Fortress compressors may have a slightly lower maximum PSI than some competitors, which could impact their performance in certain applications.
6.Maintenance And Repair Of Fortress Air Compressors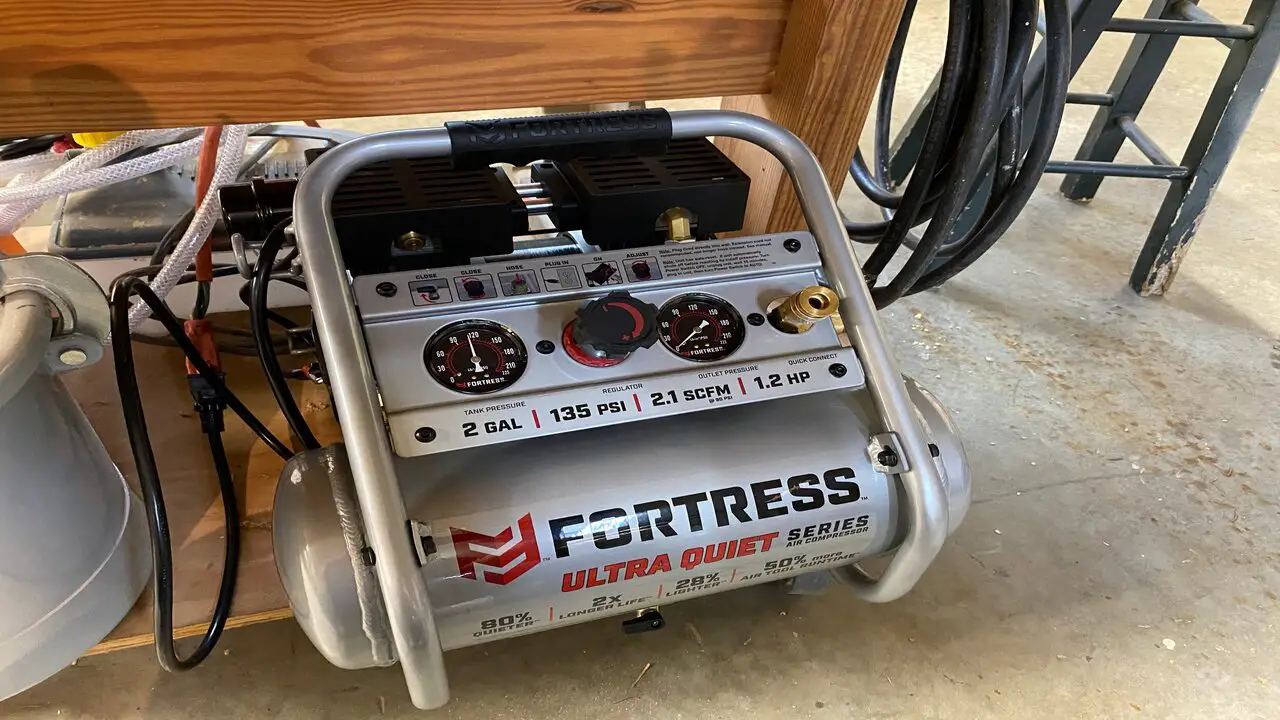 Knowing the maintenance and repair of Fortress air compressors is crucial for several reasons. First and foremost, regular maintenance ensures that the compressor operates at peak efficiency, reducing energy costs and prolonging the machine's lifespan.
Additionally, routine inspections can identify potential issues before they become major problems, avoiding costly breakdowns and downtime. It's important to note that neglecting maintenance can also compromise the safety of workers, as malfunctioning compressors can be hazardous.
 Regularly check the air compressor's oil level and change it according to the manufacturer's instructions.
Inspect the air filter and replace it if it's dirty.
Keep the compressor's exterior clean and free of debris.
 Check the belts and pulleys for wear and tear and replace them if necessary.
 Inspect the hoses and connections for leaks or damage.
 Keep the condenser coils clean to ensure proper cooling.
Check the pressure switch for proper operation and adjust it if necessary.
Replace any damaged or worn parts as soon as possible.
 Follow the manufacturer's instructions for storage and maintenance during periods of inactivity.
8.Where To Buy Fortress Air Compressors And Accessories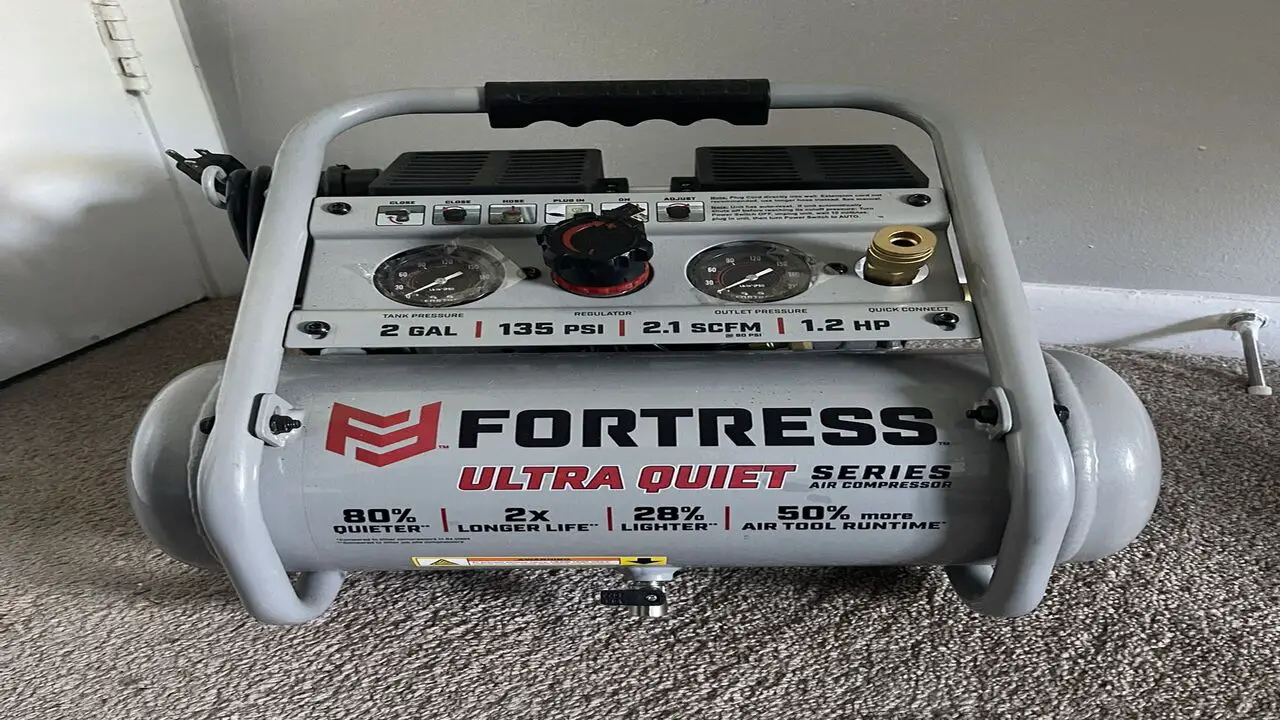 You may wonder where to start your search when you're in the market for a new air compressor or accessories. A great option to consider is Fortress, a brand that offers a range of quality products for all your air compression needs. When it comes to purchasing Fortress air compressors and accessories, a few different options are available to you.
One option is visiting your local home improvement store, Home Depot or Lowe's. Many of these stores carry a selection of Fortress products, making it easy to browse and compare different models and accessories in person. You can also check online retailers, like Amazon or Northern Tool, that offer a wide range of Fortress products and customer reviews. This lets you easily compare prices and features and find the best deal.
9.Warranty And Customer Support For Fortress Air Compressors
When purchasing a Fortress air compressor, consumers can rest assured that they are getting a quality product with exceptional warranty and customer support. Fortress offers a 1-year limited warranty on all of their products, covering any material and workmanship defects. Additionally, customers can purchase an extended warranty for added peace of mind.
If a customer needs to utilize the warranty, Fortress has a dedicated team of customer support representatives available to assist with any questions or concerns. They are knowledgeable about the products and can help troubleshoot any issues. In addition to the warranty and customer support, Fortress also provides customers with a comprehensive user manual and online resources, including instructional videos and FAQs. This ensures customers have all the information they need to use and maintain their air compressors properly.
Conclusion
So, there you have it, folks – the mystery solved. The true source behind who makes Fortress air compressors has been revealed. With a team of skilled and experienced engineers, Fortress has been producing high-quality air compressors for years. Whether you're a hobbyist or a professional, Fortress air compressors are a reliable and affordable option.
The company that produces the powerhouse Fortress Compressors is a renowned manufacturer of industrial-grade air compressors and small and Big Power Solutions. As a leader in the air compressor industry, Small and Big Power Solutions are well-known for their high-quality products and craftsmanship. So, the next time you're in the market for an air compressor, remember the name Fortress and the team of experts behind it.
FAQ
1.Where Is The Headquarters Of Fortress Compressors Located?
Ans: The headquarters of Fortress Compressors is located in Houston, Texas. Situated in the heart of the energy industry, Houston provides the perfect backdrop for this leading compressor manufacturer. With its state-of-the-art facilities and a team of highly skilled professionals, Fortress Compressors is dedicated to delivering top-quality products and exceptional customer service.
2.Are Fortress Air Compressors Made In The USA?
Ans: As of my last update in September 2021, Fortress Air Compressors were made in the USA. However, verifying the latest information is recommended since manufacturing locations can change over time.
3.Do Fortress Compressors Offer A Warranty On Their Products?
Ans: Yes, Fortress Compressors typically offer warranties on their air compressors. The warranty coverage may vary depending on the model and region, so it's essential to check the specific terms for each product.
4.How Can I Contact Fortress Compressors' Customer Support For Inquiries And Assistance?
Ans: You can contact Fortress Compressors' customer support through their official website or the contact information provided on the product's packaging and documentation.
5.Does Fortress Compressors Have A Customer Service Centre For Repairs And Maintenance?
Ans: Fortress Compressors might have authorized service centres for repairs and maintenance. You can inquire about their service centre locations and procedures through their customer support.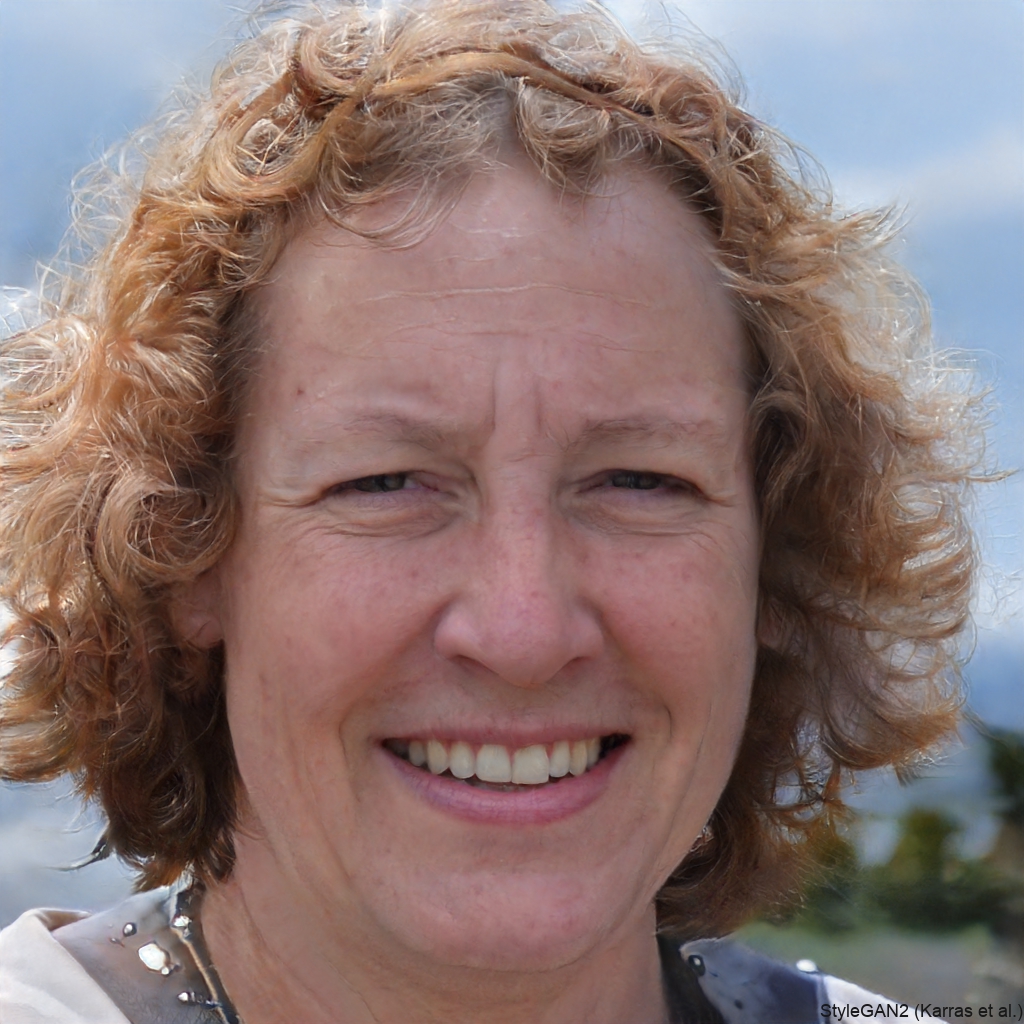 I am passionate about home engineering. I specialize in designing, installing, and maintaining heating, ventilation, and air conditioning systems. My goal is to help people stay comfortable in their homes all year long.