Motion sensor lights are becoming increasingly popular for their convenience and energy efficiency. These lights automatically turn on when they detect movement, providing a sense of security and lighting up dark areas without needing a physical switch.
While installing a motion sensor light for a single light fixture may seem straightforward, the process can become more complex when dealing with multiple lights. Here, we will take you through all the basics of motion sensor lights, from understanding what they are and how they function to the necessary tools and materials required for installation.
We have even included a step-by-step guide on how to install motion sensor for multiple lights. Additionally, we will discuss the benefits of installing motion sensors, how much it costs, and common problems encountered during the wiring process.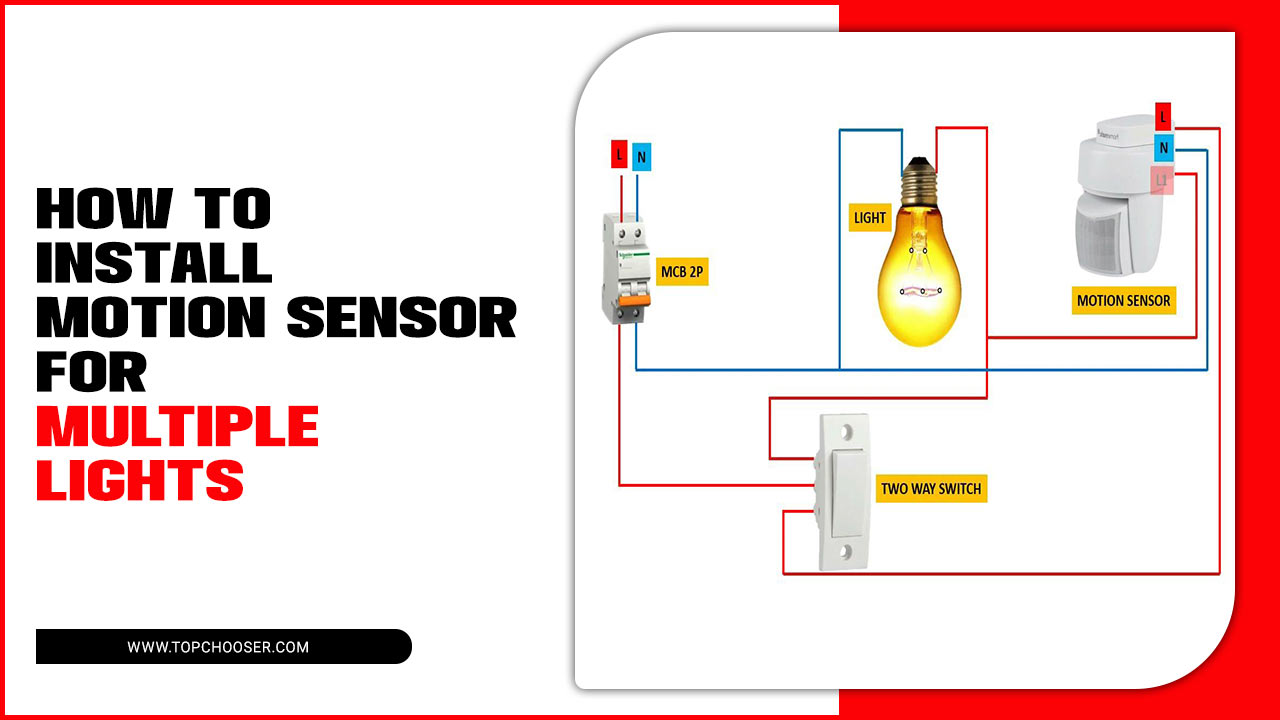 What Is A Motion Sensor Light?
A motion sensor light is a type of lighting fixture designed to turn on automatically when it detects movement in its vicinity. These lights are equipped with motion sensors that use infrared technology or other detection methods to sense the presence of a person or object. When motion is detected, the sensor sends a signal to the light fixture, causing it to illuminate the area.
Motion sensor lights are commonly handy for security, as they can help deter potential intruders by providing instant illumination when someone approaches a property. They are also energy-efficient, as they only activate when needed, saving electricity and reducing costs.
How Does A Motion Sensor Function?
A motion sensor detects changes in the infrared radiation or movement within its range. It consists of a sensor, such as a passive infrared (PIR) sensor, which detects heat signatures emitted by living beings and objects. When an object or person moves within the sensor's range, it triggers an electrical signal that activates an alarm or turns on lights or other devices connected to the motion sensor. The sensor works by monitoring the surrounding environment for any changes in heat or movement patterns, allowing it to detect and respond to the presence of individuals or objects.
Gathering The Necessary Tools And Materials For Installation
Before installing motion sensors for multiple lights, gathering all the necessary tools and materials is important. By gathering these tools and materials beforehand, you'll have everything you need to install motion sensors for multiple lights successfully. Here is a list of what you will need:
Motion sensor switches: Make sure to purchase enough to cover all the lights you want to control.
Screwdriver: A screwdriver will be needed to remove the existing light switch cover and install the new motion sensor switch.
Wire nuts: Wire nuts connect the electrical wires securely.
Electrical tape: Electrical tape can insulate any exposed wires and ensure a safe installation.
Wire strippers: Wire strippers are necessary to remove the insulation from the ends of the electrical wires.
Voltage tester: A voltage tester is used to ensure no electricity is running through the wires before starting the installation process.
Mounting screws: Mounting screws will be needed to secure the motion sensor switch to the electrical box.
Wire connectors: Wire connectors join or connect multiple wires.
Step-By-Step Guideline: How To Install Motion Sensor For Multiple Lights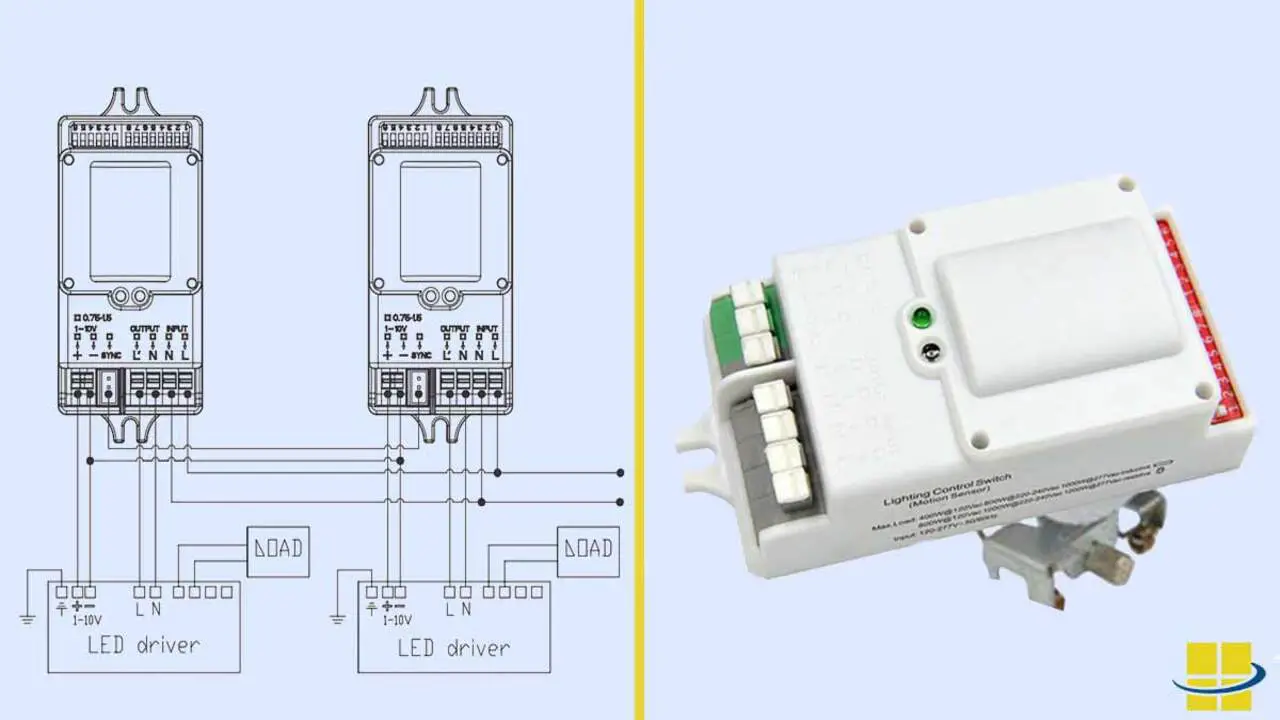 Motion sensors or motion detector lights have specific designs to detect movement and automatically turn on. This feature provides added security by illuminating dark areas and deterring potential intruders. These lights can be installed indoors and outdoors, making them versatile for various locations. Installing a motion sensor for multiple lights can help improve the security and convenience of your outdoor lighting. Here is a step-by-step guide on how to install motion sensor for multiple lights:
Step 1: Prepare The Lights
Gather all the necessary tools and materials to begin installing motion sensor lights for multiple lights. Ensure you have a screwdriver to remove the existing light fixtures. Before starting any work, turn off the power to the circuit for safety. Carefully remove the old fixtures and determine the best location for the new motion sensor lights. Check the wiring to ensure it is suitable for multiple lights. Following these steps, you can prepare the lights for installing the motion sensor system.
Step 2: Mount The Motion Sensor
Choose a suitable location for mounting the motion sensor. Securely attach it to the desired surface, ensuring it is stable and won't easily be tampered with by potential intruders. Adjust the angle and position of the sensor as needed to ensure optimal coverage.
It's important to follow the manufacturer's instructions for proper installation, including connecting any necessary wires and insulation. Lastly, don't forget to protect the motion sensor from the weather, as exposure to rain or extreme temperatures can affect its performance.
Step 3: Connect The Wires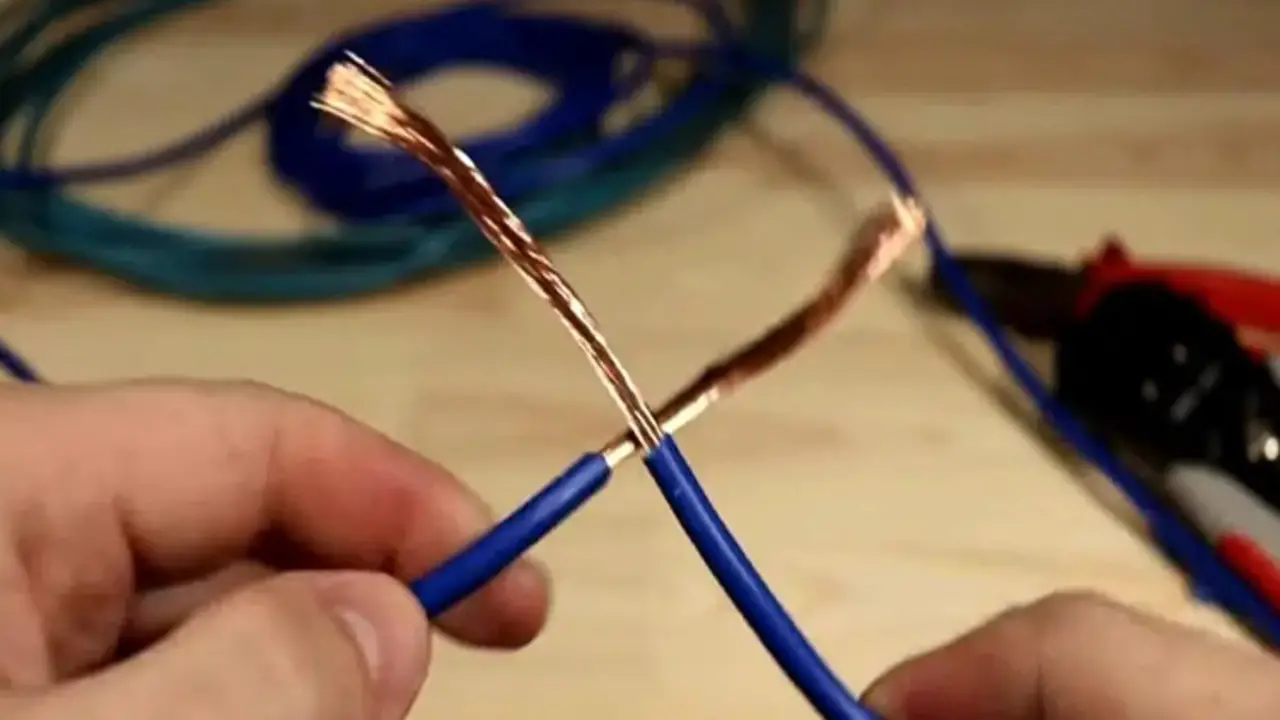 To begin, make sure to turn off the circuit breaker that controls the lights. Next, remove the existing light fixture's cover plate and wiring box. Now, you can connect the black wire from the motion sensor to the black wire in the electrical box and do the same with the white wires. It's important to secure all connections with wire nuts and properly insulate them to ensure safety and prevent any issues. By following these steps, you'll be on your way to successfully connecting the wires for your motion sensor lights.
Step 4: Test The Connection
Turn on the circuit breaker to restore light power to ensure everything is working properly. Test the motion sensor by moving within range and observe if the lights turn on and off as expected. If necessary, make adjustments to the motion sensor settings. It's important to double-check all connections and ensure they are secure. This will help prevent any issues with the motion sensor or the lights later.
Step 5: Program The Sensor
To program the sensor, begin by entering programming mode. This can be done by turning the power off and on three times within two seconds. Once in programming mode, the sensor will flash once to indicate it is ready for configuration. Use the dip switches to select the desired settings, such as the duration of the lights and sensitivity levels.
After selecting the settings, turn off the power for a few seconds to save the changes. To ensure proper functionality, it's important to test the sensor by walking in the detection zone and verifying that it activates the lights as expected.
Step 6: Install Batteries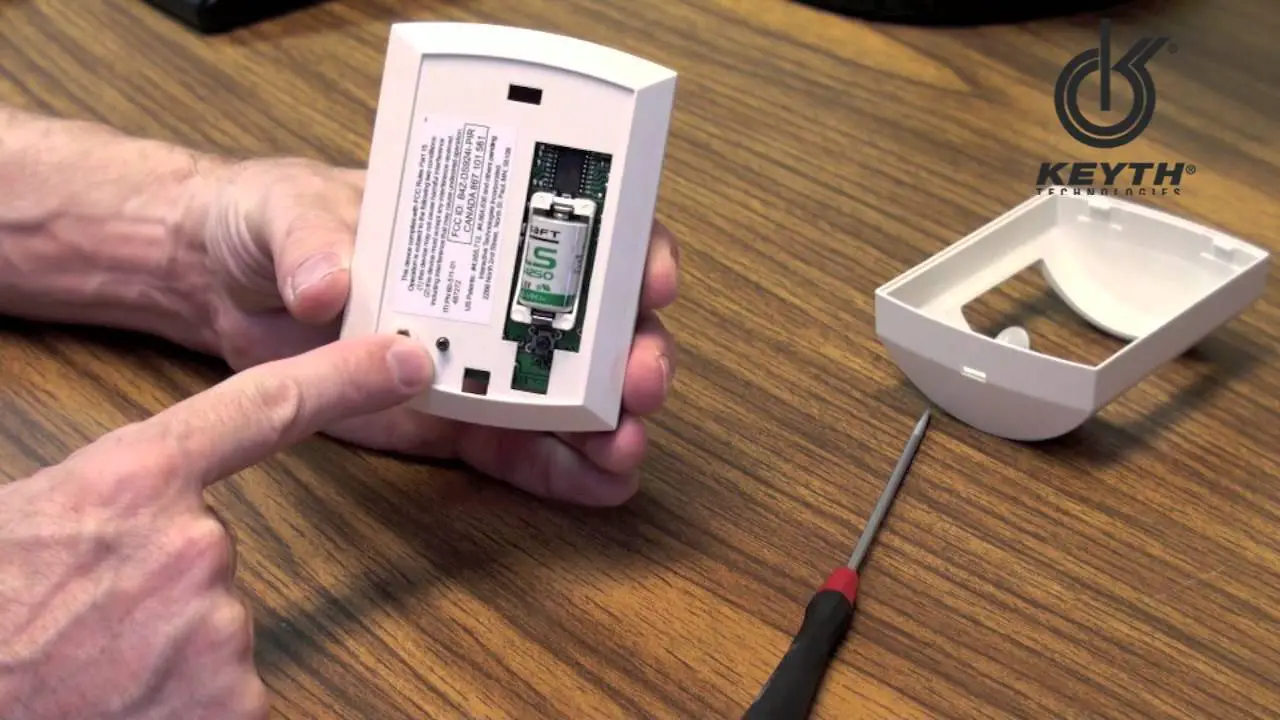 To ensure the proper functionality of your motion sensor lights, it's crucial to install the batteries correctly. Start by choosing the right batteries that are compatible with your lights. Carefully remove the battery compartment cover on each light, ensuring no damage to any wires or insulation.
Insert the batteries in the correct orientation, paying attention to the positive and negative indications. Once the batteries are in place, replace the battery compartment cover and securely fasten it. Finally, test the lights to ensure they turn on and off as expected.
Step 7: Secure The Sensor
To secure the motion sensor, use screws and anchors to attach it firmly to the wall or ceiling. Ensure that the sensor is securely fastened and doesn't move or shake. Ensure you position it in the right direction to cover the desired area. To test the sensor, walk before it and check if the lights turn on and off as expected. If necessary, adjust the sensor settings to fine-tune its sensitivity and range.
Benefits Of Installing Motion Sensors For Multiple Lights
Installing motion sensors for multiple lights can provide several benefits. Firstly, it can enhance energy efficiency by ensuring that lights are only activated when needed. This can help to reduce electricity consumption and lower utility bills. Additionally, motion sensors can improve safety and security by automatically illuminating areas when movement is detected.
This can deter potential intruders and provide peace of mind for homeowners. Moreover, motion sensors can provide convenience by eliminating the need to turn on and off lights manually. This is particularly useful in areas such as hallways or staircases where hands may be full, or visibility may be limited.
How Much Cost Of Installing Motion Sensors For Multiple Lights
The cost of installing motion sensors for multiple lights can vary depending on a few factors. The first factor to consider is the number of lights you want to install motion sensors for. Each sensor will typically cost between $20 to $50, so multiply that by the number of lights to estimate the sensor cost.
Additionally, you may need to factor in the cost of hiring an electrician if you are uncomfortable with electrical work. Electricians charge between $50 to $100 per hour for their services. Remember that these costs are estimates and can vary based on location and specific project requirements.
Common Problems Encountered When Wiring A Motion Sensor
Wiring a motion sensor for multiple lights can sometimes come with its fair share of challenges. Suppose you encounter any difficulties during the installation process. In that case, it's always a good idea to consult an electrician or seek professional advice to ensure proper wiring and functionality of your motion sensor system for multiple lights. Here are some tips to help you navigate common problems that may arise during the installation process:
Check the wiring connections: Ensure all wires are properly connected and secure. Loose or faulty connections can cause the motion sensor to malfunction or not work at all.
Test the power source: Ensure that the power source is supplying enough voltage to operate the motion sensor and the connected lights properly. Insufficient power can lead to inconsistent or unreliable performance.
Adjust sensitivity settings: Motion sensors typically have adjustable sensitivity settings, which determine their sensitivity to detecting movement. If the lights are not turning on or are constantly triggering, try adjusting the sensitivity level to find the optimal setting.
Consider placement and coverage area: Proper motion sensor placement is crucial for effective operation. Ensure that it is positioned with a clear line of sight to detect movement in the desired coverage area.
Troubleshoot false triggers: If your motion sensor is frequently activating due to false triggers, such as moving branches or passing cars, you may need to adjust its range or angle. You can also try installing additional shielding or masking tape to limit its field of view.
Maintenance Tips For Motion Sensor Lights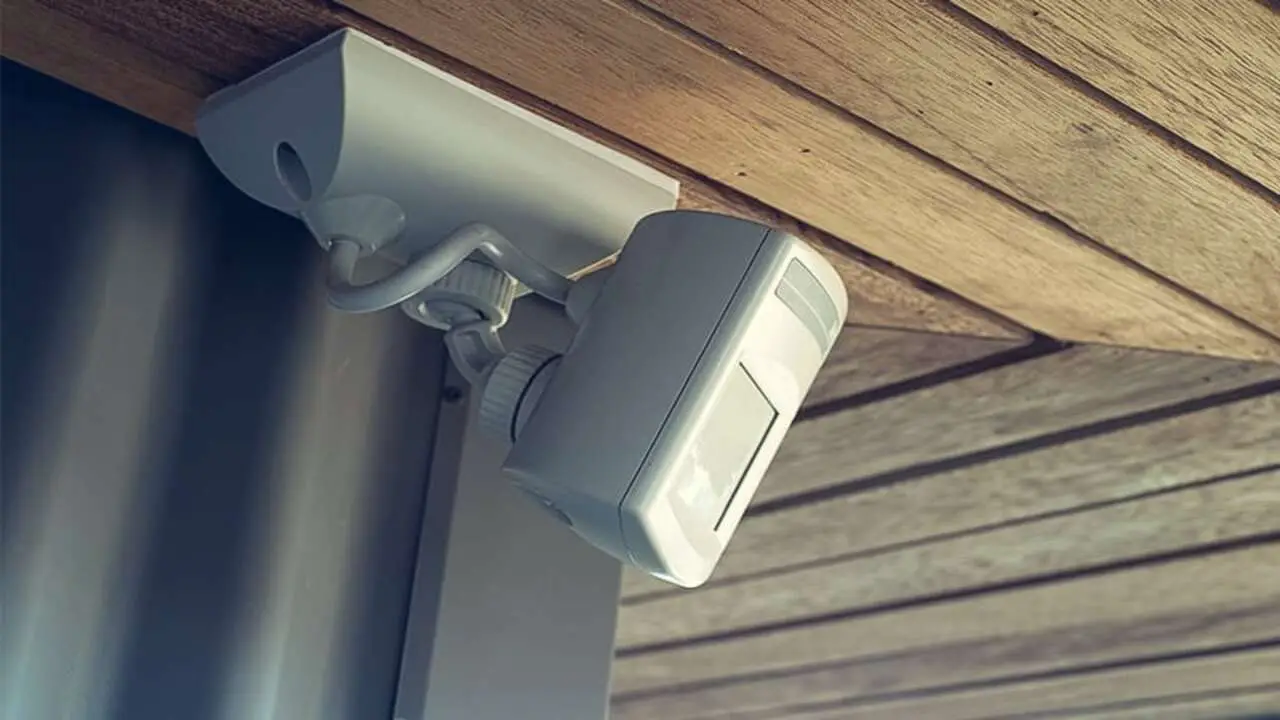 Proper maintenance is essential for ensuring that motion sensor lights continue to function effectively. By following these maintenance tips, you can keep your motion sensor lights in optimal condition and enjoy their benefits for years. Here are some tips to help you maintain your motion sensor lights:
Regularly clean the sensor: Dust, dirt, and debris can accumulate on the sensor over time, interfering with its ability to detect motion. Clean the sensor periodically using a soft cloth or brush to remove any buildup.
Check for obstructions: Ensure no objects block the sensor's field of view. Plants, decorations, or spiderwebs can obstruct the sensor's range and prevent it from detecting motion properly.
Test the lights regularly: To ensure that your motion sensor lights are working as intended, test them regularly by walking within their detection range. If the lights do not turn on or if they do not stay illuminated for the desired amount of time, you may need to adjust the sensitivity or settings of the sensor.
Replace batteries as needed: If your motion sensor lights are battery-powered, replace them when they become low. This will help ensure that the lights continue to operate efficiently.
Conclusion
Installing motion sensors for multiple lights enhances your home's security and convenience and helps save energy and reduce electricity bills. With the right tools and materials, you can follow a step-by-step guide on how to install motion sensor for multiple lights. By understanding the basics of motion sensors and their functions, you can make an informed decision and enjoy their benefits.
Remember to consider the installation cost and be aware of common problems that may arise during the wiring process. Regularly maintaining your motion sensor lights will ensure their optimal performance. Upgrade your home's lighting system today and experience the convenience and efficiency of motion sensor lights.
Frequently Asked Questions
1.Is It Possible To Connect Two Motion Sensors On The Same Circuit?
Ans: Yes, connecting two motion sensors on the same circuit is possible. However, compatibility with each other and the circuit wiring is crucial. This setup allows for better coverage and improved security. If unsure, consult a professional electrician for proper installation guidance.
2.Can You Wire A Motion Sensor To Multiple Lights?
Ans: Yes, it is possible to wire a motion sensor to multiple lights. By connecting them in parallel, you can ensure that the motion sensor triggers all the lights. Be sure to connect the lights' hot wires to the sensor's black wire and the neutral wires to the white wire. Remember to consult a licensed electrician if you have any doubts or concerns.
3.Is It Possible To Connect Two Motion Lights On The Same Circuit?
Ans: Yes, you can connect multiple motion lights on the same circuit. Just make sure that the total wattage of all the lights combined doesn't exceed the circuit's maximum capacity. Using a motion sensor switch that can handle multiple lights is also recommended. If you're unsure, consult an electrician for guidance.
4.How Do You Choose The Right Motion Sensor For Your Needs?
Ans: Consider the required area of coverage for your motion sensor. Decide on the type of technology, like infrared or microwave sensors. Look for adjustable sensitivity levels to prevent false alarms. Choose a sensor that easily integrates with your existing lighting system.
5.Where Is The Best Place To Install A Motion Sensor For Maximum Effectiveness?
Ans: For maximum effectiveness, the best place to install a motion sensor is typically near the entrance or exit of a room or outdoor space. Avoid placing it in areas with extreme temperatures and ensure a clear line of sight to the intended monitoring area. Consider the sensor's range and angle while deciding on its placement.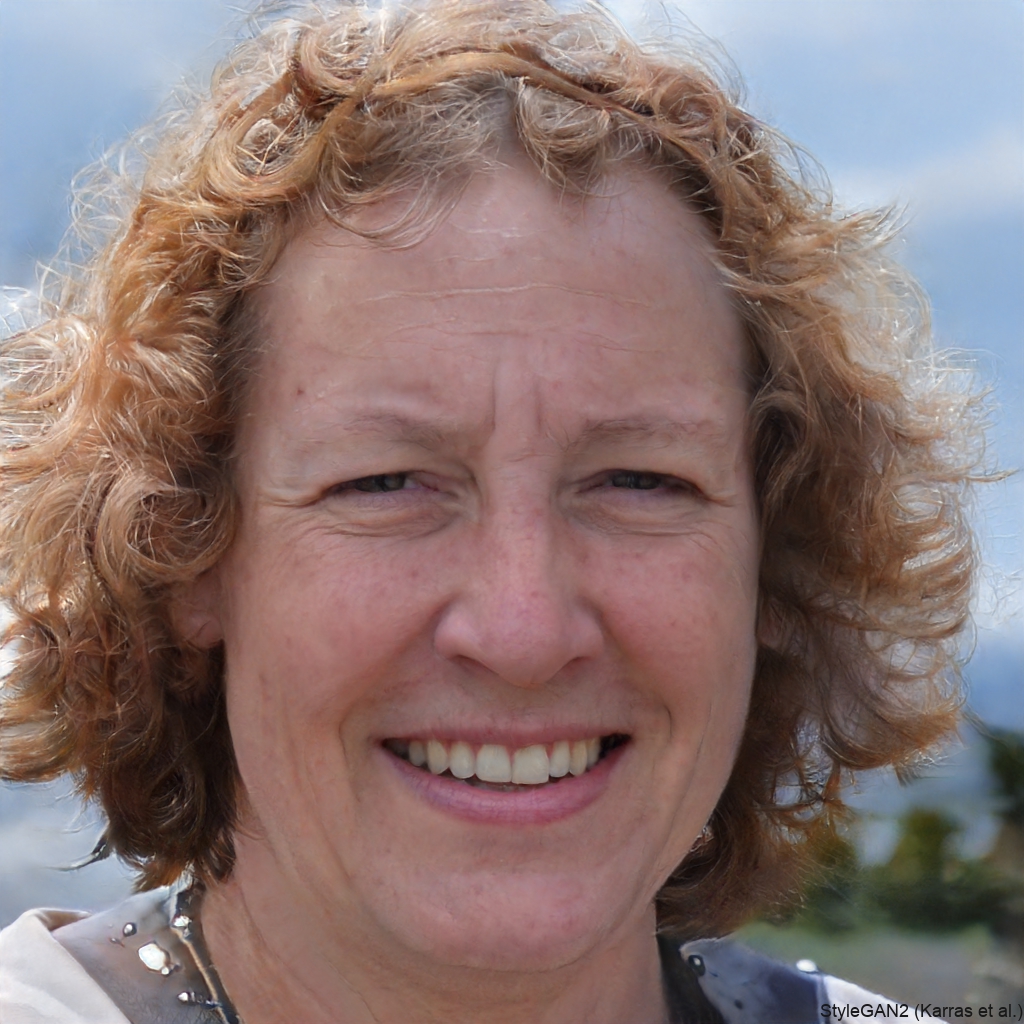 I am passionate about home engineering. I specialize in designing, installing, and maintaining heating, ventilation, and air conditioning systems. My goal is to help people stay comfortable in their homes all year long.